First Martyrs' Families Association Conference ended
The first conference of the Martyrs' Family Association of Tebqa, Raqqa and Deir Ez-zor has taken place in Tebqa.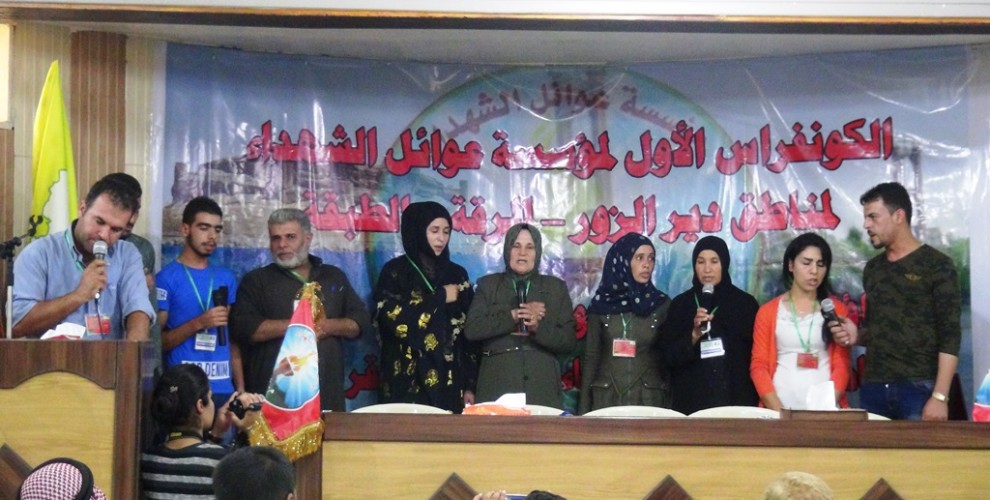 After the opening speeches the conference learned of the works of the association and discussed the various articles of the statute. 
The statute underlined that all internationalist martyrs are martyrs of the revolution. 
It was also decided to organize martyrs' families and to activate their works and to prepare a portrait of each martyr.
Planning was made after reading the statute. According to this, training courses will be opened for all martyr families. Following the recommendations of the families of the martyrs and the participants, 13 new members from Tebqa, 13 from Raqqa and 13 from Deir Ez-Zor were selected.
Speaking at the end of the conference, Tebqa Democratic Civil Administration Council Co-Chair, Hind El-Elî, stated that the conference was one of the achievements of the revolution and wished the families of the martyrs success in their work.
The conference ended with slogans.
Speaking to ANHA after the conference, the Northern Syria Martyr Families Council executive, Adil Balî, said: "The martyrs sacrificed their lives for a common life and a democratic nation. Martyr families will continue to fight for these goals and dreams in the name of the martyrs". 
The conference is important for the families of martyrs, said the Director of Tebqa Martyrs' Families Association Ebdulkerîm Abrahîm, who added that the association would continue its work in organising the families.