SDF announces two lines for new military strategy
Syrian Democratic Forces announced the outcome document of the meeting in Heseke this Sunday. The SDF has determined two paths for the new military strategy regarding the coming period.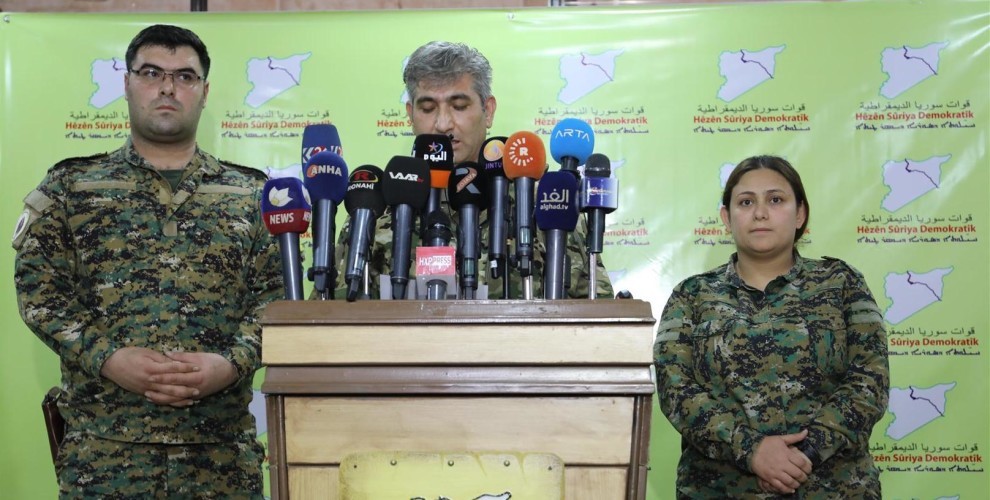 Syrian Democratic Forces (SDF) held a regular meeting on February 17 with participation from commanders from all military councils and institutions in the region.
The war against the last ISIS stronghold, possible developments in the aftermath of the US forces' withdrawal, the Turkish state's claims and the secure zone, the relationship with the Syrian government and future security issues were extensively discussed in the meeting.
The outcome of the meeting was listed in 7 points:
1- As a result of operations against various terrorist organizations since 2012 and the ISIS terrorist organization since 2014 with support from the International Coalition, the "Caliphate" is nearing its end. They are stuck in the small area in Baghouz. The war will definitively end with the rescue of prisoners and civilians.
2- Two lines were determined for the new military strategy for the Syrian Democratic Forces for the coming period:
-Military and security operations with support from the International Coalition to eliminate secret cells.
-Elimination of the ongoing social, ideological and financial presence of ISIS.
3- The Military Council discussed the Turkish state's approach and their false allegations that our forces constitute a threat against the region. The Turkish state is an invader and it has occupied Afrin, Bab, Jarablus and Idlib in Syria. Participants pointed out that the issues with the Turkish state should be resolved through dialogue and within the framework of neighborhood principles, and added that preparations need to be made for possible attacks against the region. They also said a secure zone for peace and security of the northern border could be possible under supervision from the international community.
4 - The Military Council discussed meeting with the Syrian Government and stressed the necessity of efforts for a solution through dialogue within the framework of Syria's unity and the recognition of the Syrian Democratic Council and the Northern and Eastern Syrian Autonomous Administration.
5- The leading and important role the Women's Defense Units in the Operation to End Terror was mentioned in the meeting and the heroic actions of the fighters were saluted.
6- The liberation of Afrin, the people's return to their lands and halting the demographic change were determined as priority duties for the coming period.
7- Syrian Democratic forces will restructure and hold trainings after the official announcement of the end of ISIS terrorist organization to take new positions as military and security needs arise."