Several ISIS positions destroyed amid fierce fighting in Baghouz
Heavy fighting continues in Baghouz village in Hajin town of Deir ez-Zor governorate in eastern Syria.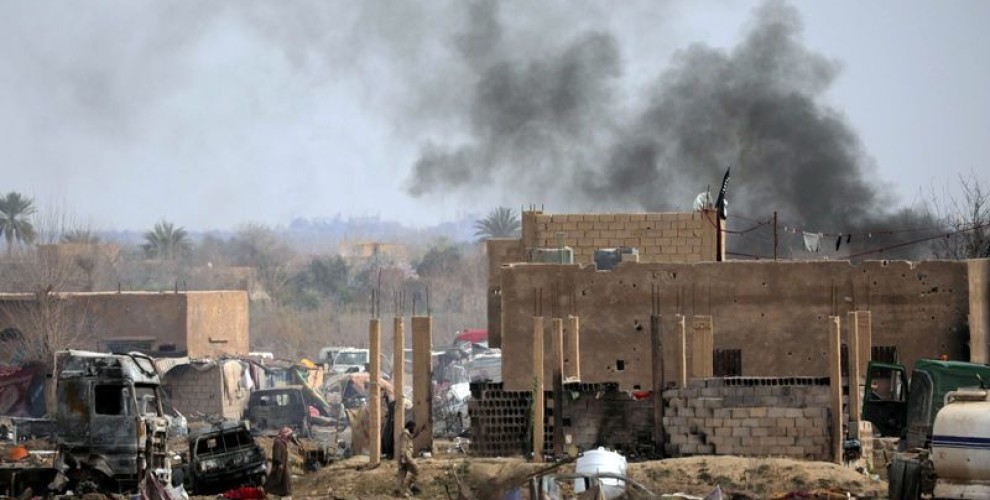 Syrian Democratic Forces (SDF) units are engaged in fierce clashes with ISIS in Baghouz in their ongoing operation to finish off the terrorist organization in the border region.
SDF fighters have destroyed several positions of ISIS gangs with artillery attacks, tightening the circle around the terrorist elements that refused to surrender in their last remaining pocket in north and east Syria.
SDF had announced the killing of 38 ISIS mercenaries during yesterday's clashes in Baghouz.
SDF fighters have taken back all houses in the town in the last two nights, and the gangs are trapped in a narrow area they used as a camp that they accessed through tunnels. There have been intense clashes in the area in the last two days, as evacuation efforts continue. A 60 person ISIS group surrendered to the SDF fighters last night.
SDF paused the operation on February 9 for the evacuation of ISIS members and their families. Over 12.000 people were evacuated by March 1. When some ISIS members (mostly foreign-born) refused to surrender and decided to fight along with their families, SDF forces relaunched the operation on March 1 at 18:00 from 3 fronts.
Intense clashes occurred in the operation, and one of the fronts was closed to open a corridor for surrendering gang members.
Some 9.000 people were evacuated through the corridor the SDF fighters opened from March 4 to March 10.
ISIS members remaining in the town attacked SDF positions with heat guided missiles and DShK guns, and the fighters relaunched the operation on March 10.
SDF fighters have taken over 15 positions in the last two days. The gangs are trapped in the area they used as a camp that is accessible through tunnels.
The gangs have a 700 m long and 300 to 400 m wide area under their control in the town at the border where the Euphrates river leaves Syria.
The SDF Command called on the ISIS members in the area to surrender again this morning.