The joy of Yazidi women after their liberation from ISIS
As soon as they reach the areas of the Syrian Democratic Forces (SDF) and the People's/Women's Defense Units (YPG/YPJ), the Yazidis breathe freedom as if they have returned to life again; forming a circle of joy and pleasure filled with feelings.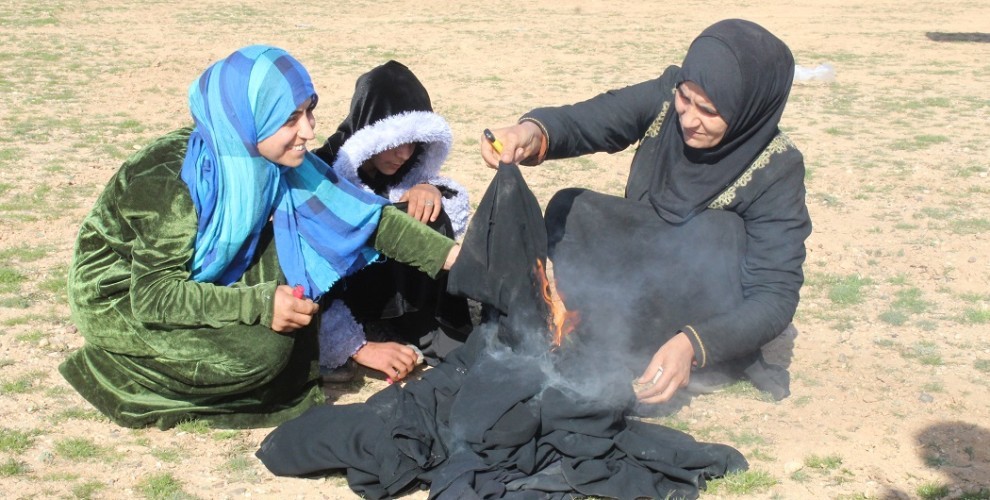 The Middle East is the center of civilization in the world, and Kurdistan is the richest region in this vast geography. And so it has been constantly targeted throughout its history. The last of these brutal attacks was on August 3, 2014, when the ISIS terrorists attacked the Yazidis in Shengal.
Without a distinction between children or adults, men or women, the ISIS militants carried out a massacre against the Yazidis and exterminated them to a deep wound in the heart that would not heal.
In addition to these massacres, thousands of Yazidis women and children were kidnapped and, to this day, many have been liberated in all areas reclaimed from the control of ISIS. For months, the Syrian Democratic Forces, the YPG and YPJ units have been conducting their campaign against the last terrorist-controlled terrain, as part of the Jazeera Strom campaign and its final stage, the Battle to Defeat Terrorism.
The operation continues with the liberation of hundreds of civilians from the terrorist organization on a daily basis.
As we move through the corridor where civilians fled from ISIS towards the SDF territory, we have seen touching moments that are impossible to forget.
Among the civilians who were liberated recently in the last ISIS pockets, are Yazidi women and children abducted from Shengal in 2014. These women and children, upon their arrival to the areas where the Syrian Democratic Forces and the People's and Women's Defense Units are present, were happy to be rescued from terror, to return to life.
The happiness on their faces expressed everything. Like the joy and pleasure that draws on the face of a child when seeing his/her mother after many years of separation. Their sense of closeness to their homeland showed their enthusiasm and pleasure beyond description.
"How happy we are, for our salvation from ISIS and reaching the freedom fighters," the Yazidi women repeatedly said. "We will never forget those who have sacrificed their lives to liberate us from the clutches of ISIS," the women added.
On the other hand, the SDF fighters evacuated the liberated civilians into safe areas so they can be safely brought home. "We will fight terrorism everywhere to free the last child and woman from the hands of ISIS," the combatants reassured the Yazidi women.