TKP/ML-TIKKO announces martyrdom of Italian fighter in Baghouz
"I don't have any regrets and I died doing what I thought was right, defending the weak and staying true to my ideals of justice, equality and liberty."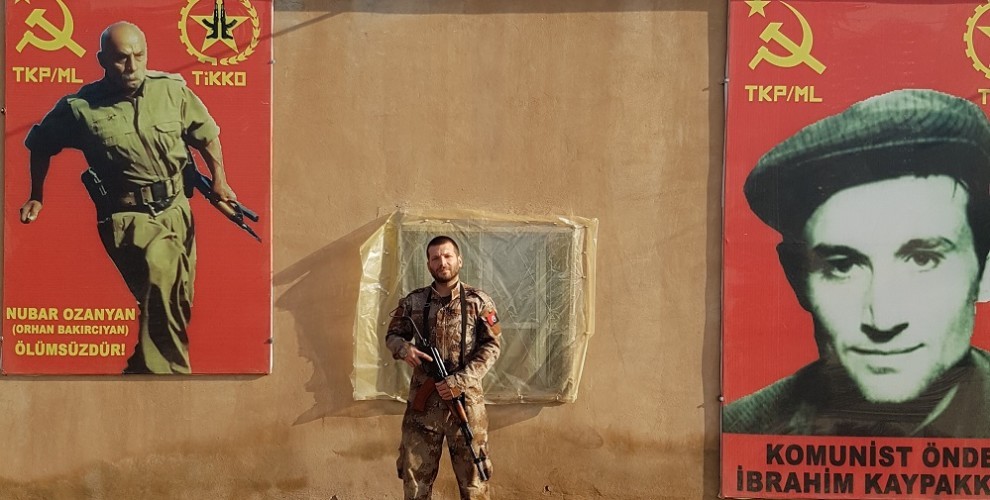 TKP/ML-TIKKO Command of Rojava released a statement announcing the martyrdom of Italian fighter Lorenzo Orsetti in Deir ez-Zor.
Full text of the statement reads as follows;
"Today our comrade TEKOŞER, a fearless fighter based at TIKKO headquarters, was martyred during the struggle for the rescue of Baxoz from DAESH. This morning our Italian comrade TEKOŞER was sent to immortality during the operation against DAESH. The pain of our loss is tremendous. Our internationalist comrade TEKOŞER fearlessly joined countless attacks and clashes at the front, from the Efrin resistance to the liberation of Deir ez-Zor.
Our comrade, who was a great fighter of the revolution of Rojava, has always been a leader of the war and resistance. The name TEKOŞER will be remembered as one of struggle and fight. Every place where the enemy appeared was a place of war and resistance for him. He was always restless when he didn't join the clashes, and he painted the most beautiful painting of happiness when he went to the front. He carried the wave of freedom from Italy to Rojava. His is the heroic name of internationalism and revolution, just like those of BARBARA ANNA KISTLER and commander NUBAR OZANYAN.
Our courageous, selfless comrade will live in our ideals of freedom forever. He will always be with us in the red colour of our victory flag. He will be remembered with respect and dignity. We vow to honor him in our struggle, and to continue his comradeship and commitment to the fight.
The brave comrade of the fighters of TIKKO, a hero of the international proletariat, a fearless fighter of the Rojava revolution, our comrade TEKOŞER will live on in our fight against fascism.
COMRADE TEKOŞER IS IMMORTAL!
THE FIGHTERS OF THE PEOPLE ARE IMMORTAL!
DOWN WITH IMPERIALISM, FEUDALISM AND ALL OTHER REACTIONARIES!"
In a message written before his martyrdom, the Italian volunteer said the following;
"Hello. If you are reading this message then it means that I am no longer of this World. Don't be too sad, though, I'm OK with it; I don't have any regrets and I died doing what I thought was right, defending the weak and staying true to my ideals of justice, equality and liberty.
So in spite of my premature department, my life has been a success, and I'm almost certain that I went with a smile on my face. I couldn't have asked for.
I wish all of you all the best in the World and I hope that one day, you too will decide to give your life for others (if you haven't already) because that is the only way to change the world.
Only by combatting the individualism and egoism in each of us can we make a difference. These are difficult times, I know, but don't give in to despair, don't ever abandon hope, never! Not even for a second.
Even when all seems lost, when the evils that plague the earth and humanity seem insurmountable, you must find strength,  you must inspire strength in your comrades.
It is in the darkest moments that we have greatest need of your light.
And remember always that "every storm begins with a single raindrop". You must be that raindrop.
I love you all, I hope you will treasure these words for time to come.
Serkeftin!
Orso,
Tekoşer,
Lorenzo."