Turkey deliberately burned 11,000 hectares of lands in Afrin
Forests are intentionally set on fire in Turkish state-occupied Afrin. It has been reported that at least 11,000 hectares have been burned to date.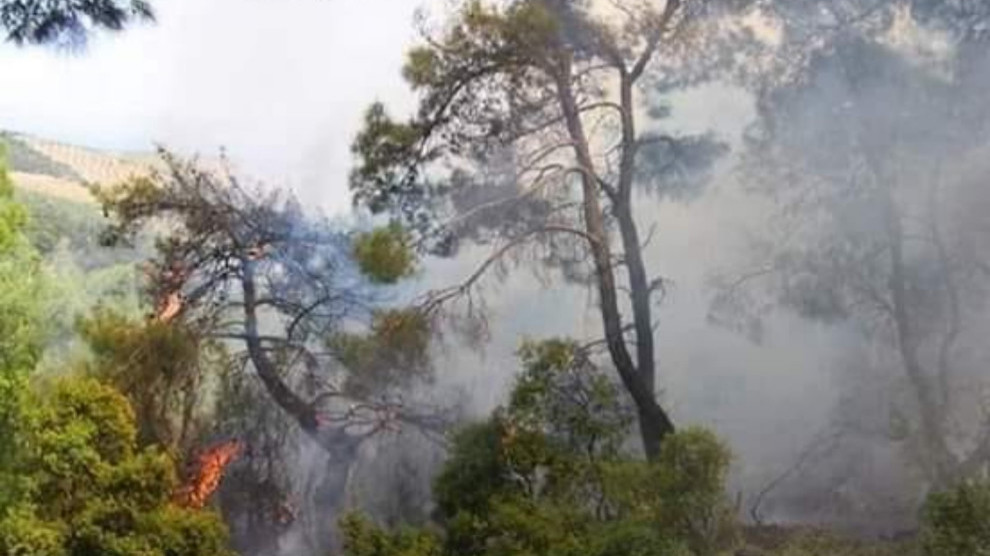 The Turkish regime invaded Afrin in March 2018. In addition to systematic war crimes and crimes against humanity, the Turkish-linked occupiers are also destroying nature. Public properties are confiscated, plundered or illegally commercialized in favor of the Ankara regime.
According to ANHA, last year, 11,000hectares of lands in the villages of Afrin were set on fire deliberately. 
The forest areas burned are: Sari Sînê mountain in the district of Raco, Xirabê Simaq, Kurê, Kumreşê and Surkê, Cirqa.
Bafıran village forest in the town of Mabata, Hawar Castle surroundings, Risha Isiyê, Ruza Valley, Remedana and Gurda.
In addition, Hec Hesna, Qazıqlı, Şeyh Mihemed and Çulaqa forests were set on fire in the village of Tetera, Jindires.
The forest area around the lake of Meydankê and the forests of Tetera around the villages of Gubeka and Sêwiya between the villages of Mabata were burned as targets of the Turkish regime and their gangs.
Norşan Hisên from the Afrin Municipalities Committee said: "The Turkish state and its mercenary allies want to change the demographic structure of Afrin by inhumane methods such as forced migration and massacre." 
Norşan added: "The occupying Turkish state and its mercenary allies added forest fires to inhuman practices as they know that the people of Afrin will resist until the end."
Ending her remarks the Afrin Municipalities representative called on the environmental organizations to take action against the Turkish state's policy of burning forests and destroying nature.