"We are human shields against Erdogan's tanks and mortars"
The human shield activists say they don't accept the invading Turkish state's threats against North and East Syria and that they will resist to the end.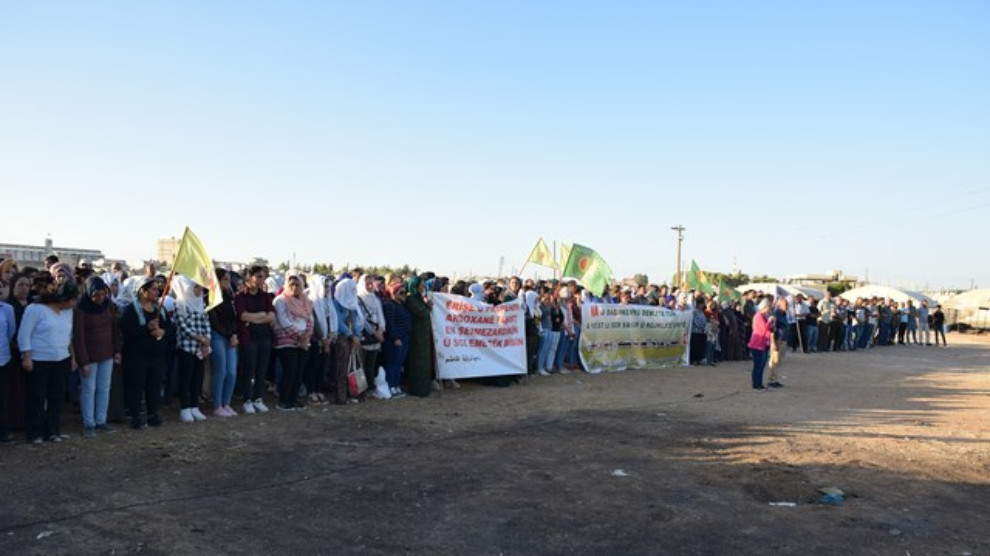 The human shield action launched in Heseke Canton's Serekaniye province against the threats of invasion on North and East Syria continues. Activists spoke to ANHA about their insistence on resisting and protest against the invading Turkish state.
THE PROTEST WAS A DUTY
Activist Recaa Newaf said she considers the action to be a duty in the aftermath of Turkish threats: "As a woman, I saw it as my duty to participate in this action to reject invaders on our lands and defend the values our martyrs created with their valiance. We have followed the path of the martyrs since the beginning of the revolution, and we will continue to do so."
Recaa continued: "If we stand united, Turkey cannot invade our lands. Today what is asked of us is to defend the sacred lands watered with the blood of thousands of martyrs."
WE STAND AGAINST GENOCIDE
Hemid Shexmus condemned the threats and said: "The Turkish state has killed thousands of Kurds, Syriacs and Turkmens throughout history. Today, by participating in the human shield action, we stand against their attacks to enact a genocide against the peoples of North and East Syria."
ISIS DEFEAT HEAVY BLOW FOR ERDOGAN
Abduleziz Yusif El Alewi said they reject Turkey's threats of invasion: "We are here to respond to Erdogan and his threats. We are the people of North and East Syria, nobody can destroy us."
El Alewi said: "We are here as human shields against Erdogan's tanks and mortars. It was Erdogan who destroyed Syria. He sent gang groups like ISIS to lay ruin to the country and he supported them. SDF responded to these attacks and ended ISIS, which was a great blow against him. Now with his army he wants to invade these lands. But these attacks will result in their defeat."