686 civilians killed, 8,455 people kidnapped in Afrin since 2018, says Human Rights Organisation
Today is World Human Rights Day, but Afrin, occupied by the Turkish state on 18 March 2018, with the silent partnership of the UN and many states, has been transformed into a center where crimes against humanity are committed on a daily basis.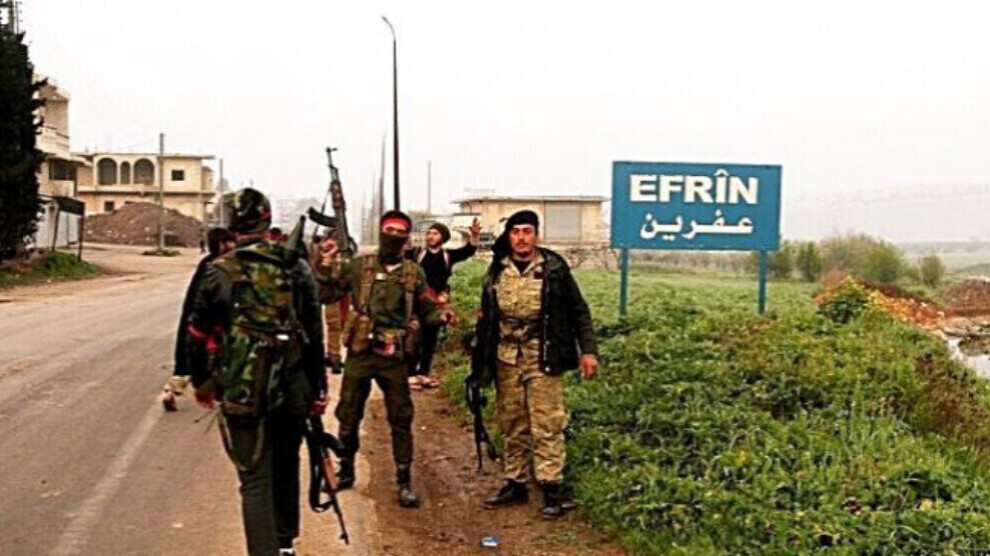 The Turkish state and its army recruited from ISIS and Al Nusra gangs in Afrin have been carrying out crimes against humanity since March 2018.
Kurds in the city were 96 percent of the population before the occupation. Today they are 23 percent according to some sources and below 15 percent according to others. Only 200 people from around 15 thousand Alevis are still in the city and only about 2 thousand out of around 25 thousand Yazidis have remained in the city and around a thousand Christians.
Kurdish is forbidden and its historical monuments, olive groves and houses are looted by the invaders. The people of Afrin, who insist on staying on their land, are eventually forced to flee the city due to practices such as torture, massacre, threats, rape, kidnapping and ransom.
The Turkish state not only tortures the Kurds who remain in Afrin, but also bombards Shehba, where more than 100,000 people from Afrin live, since they migrated from the city due to the occupation.
Since the beginning of the invasion operation on 20 January 2018, at least 686 Afrin civilians have been killed by the bombardments and tortures carried out by the invaders.
At least 96 of the civilians killed by the invaders are women. Of these, 7 women ended their lives due to torture and sexual assault.
71 women were raped by the occupiers. In its research, Afrin Human Rights Organization determined that all women abducted by ISIS, Al Nusra and other gangs, gathered under the name of Turkish intelligence and Free Syrian Army, were subjected to sexual assault and harassment.
Afrin Human Rights Organization documented that at least 88 civilians were tortured to death by the invaders.
Tortured to death
Despite the fact that crimes against humanity committed by the gangs under the control and partnership of the Turkish state are on the agenda in international reports, the abduction, torture, ransom, murder and rape practices of the invaders continued systematically in 2021 as well.
In Afrin, the invading Turkish state and its mercenaries killed at least 49 people, 13 of whom were women and 13 of whom were children, in 2021. Afrin Human Rights Organization documented that 6 of the abducted, including 2 women, were tortured to death.
Of these, Mevlüde Numan was tortured to death by Turkish gangs in the Çobanbey (Rai) prison in May 2021. Nemet Behçet Şêxo, 32, was pregnant. She and her husband were detained in October, in front of Qenber Hospital in Afrin city center, by Turkish intelligence and people who described themselves as "civil police". It has been revealed that Nemet Behçet Şêxo and her husband were subjected to intense torture for their alleged involvement in the explosions, and Nemet Şêxo died as a result of these tortures.
People of Afrin killed in Shehba
The massacres and attacks of the occupiers against the people of Afrin were not limited to the city of Afrin. Artillery shells are fired daily from Afrin and Afrin areas occupied by Turkey, such as Mare and Ezaz, to Shehba, where around 150 thousand people live.
As a result of the Turkish state and its mercenaries bombing Til Rifat on 23 January 2021, Seededdin El-Qeys, a woman named Nazliye Mihemed Mustefa and their children Macid Yasir Sekran, aged 5, and Ebdulhemid Sekran, aged 12, lost their lives. Two civilians were also injured in this attack.
On 6 April 2021, a 12-year-old girl was killed and 3 civilians were injured as a result of the Turkish state's bombing of the villages of Sherawa and Shera in Shehba.
As a result of the bombardment of the invading Turkish state on 13 June 2021, 3 civilians were injured in Sherawa.
In the village of Shehba, which was previously under the occupation of ISIS and gangs under the control of the Turkish state, 10 people, including 6 children, were injured as a result of the explosion of mines laid by the gangs in the past.
At least 8,455 Afrin residents kidnapped, 655 in 2021
According to the Autonomous Administration system, at least 1 house in almost every village of Afrin, which consists of 7 districts, 372 villages and hamlets, has been turned into a torture station where the occupiers hold the people they kidnapped for ransom.
At least 8,455 people were abducted since the occupation in 2018. While the fate of almost half of the abducted Afrin citizens is unknown, some of them are kept in prisons and torture houses in the areas occupied by Turkey in Syria. Afrin Human Rights Organization documented that at least 40 of the citizens abducted by the invaders were unlawfully taken to Turkey and sentenced to heavy penalties. Again, while many kidnapped people were released by the gangs for ransom, many others were kidnapped many times by different gang groups for ransom.
Random turned into a business
In its research, Afrin Human Rights Organization documented that kidnapping and ransom in Afrin has been turned into a business by the Turkish state. The spokesman of the organization, İbrahim Şêxo, said that the citizens who were kidnapped by the gangs and could not pay the ransom, continue to be arbitrarily detained and added that they were sentenced by the occupation court established in Afrin.
At least 655 people were kidnapped in 2021, 75 of them women and 5 children, including 1 baby. In addition to massacres, kidnappings, torture and rapes, the invaders continued to confiscate people's homes, fields, olive groves and olives.