Action tent in Manbij demands freedom for Öcalan
An action tent was set up in Manbij with the participation of hundreds of people to demand freedom for Kurdish people's leader Abdullah Öcalan.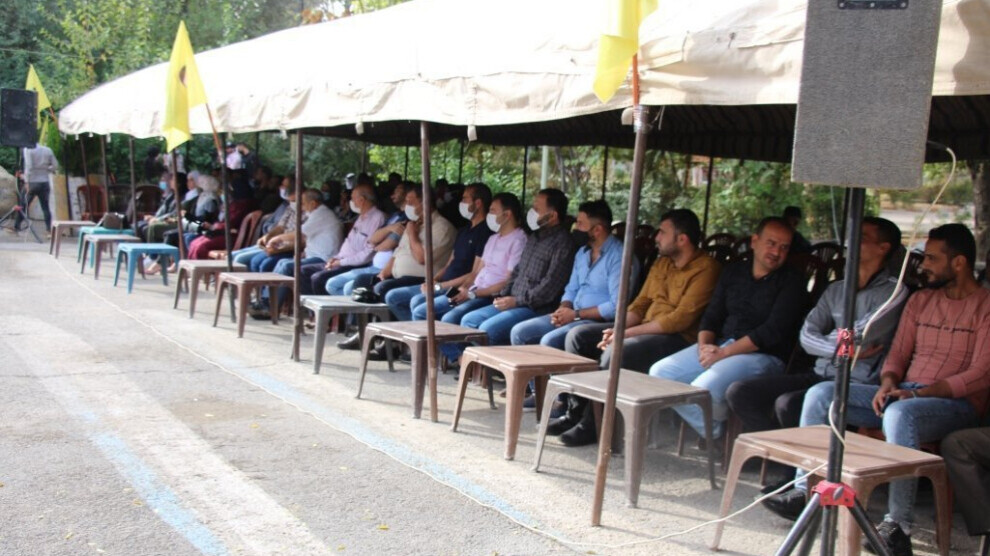 Under the leadership of the Democratic Society Academy, a tent action was held in a public park in the city center of Manbij to protest the international conspiracy against Kurdish people's leader Abdullah Öcalan and to demand his freedom.
Members of civil and military organizations, women's organizations and many citizens attended the action which started with a minute's silence and continued with the speech of Refet El-Xelef, a member of Manbij Democratic Society Academy.
Calling on the international community and humanitarian organizations to put pressure for the lifting of the isolation imposed on Abdullah Öcalan and to ensure his freedom, Refet El-Xelef said: "I condemn the conspiracy carried out by the Turkish invasion 23 years ago with the support of international intelligence against Leader Öcalan. This conspiracy aimed  to destroy the free thoughts of the Kurds and the peoples of the Middle East."
Freedom to Leadership Committee member Asya El-Hisên said that Abdullah Öcalan turned prison into a center of science and spread his knowledge to the peoples of the region with his defenses.
Manbij Executive Council deputy chair, Juma El-Heydar, said that the international conspiracy targeted the ideas of Abdullah Öcalan, who is trying to destroy all forms of capitalist modernity power.