Afrin: A small terrorist state in the name of Islam?
TEV-DEM warns that Turkey wants to make a small terrorist state out of Afrin in the name of Islam. The occupied area in northern Syria is meant to become a centre where terrorists are trained and sent out into the world.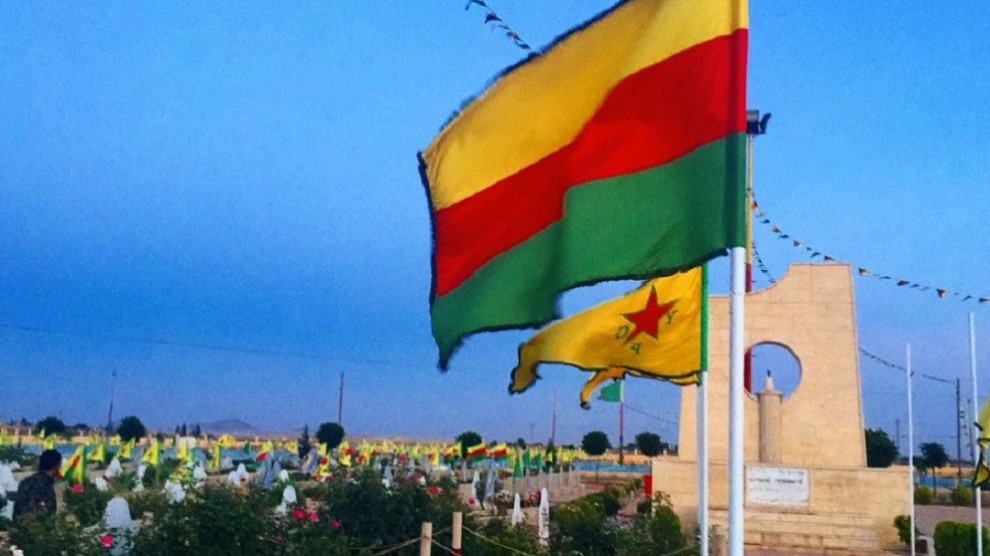 The civil society umbrella organisation TEV-DEM (Movement for a Democratic Society), founded in Rojava in 2011, draws attention to the situation in the North Syrian region of Afrin, which was occupied by Turkey two years ago, and calls for urgent action.
A statement published by TEV-DEM today includes the following;
"There are international agreements on flight and forced displacement, according to which it is illegal to expel groups of people from their homes. These also include war crimes, genocides and crimes against humanity. The 49th Article of the Fourth Geneva Convention, adopted in 1949, prohibits the expulsion of individuals and peoples in armed conflict.
Crimes must be documented and punished
The Turkish state's actions in Afrin and other areas violate Syrian borders and constitute a war crime under international law. For this reason, Turkey's crimes must be documented and brought before international courts. The demographic change in Afrin and the other areas constitutes an ethnic genocide. The people who fled from Afrin live under difficult conditions in Shehba and receive no support from any international institution. All international organizations are watching what is being done to the people who fought terror and defeated it for the whole world.
Afrin is intended to be annexed and developed into a terror center
The Turkish state does not even adhere to basic international legal norms. It is a breach of international law when a state destroys historical sites, nature, history, traditions and customs in a territory it occupies. The intention of the Turkish state is clear. It wants to separate and annex Afrin from Syria. If a state occupies parts of another state and carries out a population exchange, it is a war crime against humanity.
There are 18 million olive trees in the Afrin region. They are the symbol and the main source of income for the local population. These trees are cut down to drive out the population. Whole olive groves are burned down. At the same time, historical cultural assets are stolen and taken to Turkey or to areas controlled by radical terrorist organisations.
The terrorist regime in Turkey wants to make a small terrorist state out of Afrin in the name of Islam. Afrin is intended to become a centre where terrorists are trained and sent out into the world. This is intended to blackmail Europe and the Arab countries. Like Libya, Afrin is played as a trump card in talks with other countries.
International law and ethical obligations of the international community
By its silence on this issue, the international community is making itself complicit in Turkish crimes. We appeal to the international community to fulfil its legal and ethical obligation. As TEV-DEM, we consider the United Nations and Russia directly responsible for the war crimes in Afrin. We call on the whole world to stand up against the Turkish state ruled by Erdoğan, which provides a base for the terrorists and sends them to Libya, Europe and other countries. We call on the Syrian state, in view of the encroachments on its sovereignty, to fulfil its constitutional and national obligations and bring the crimes committed against Syrian nationals before international courts.
We call on the people to continue to protest against the occupation and to demand peace everywhere. There is no other way than to fight against the fascism of the Turkish state led by the Sultan of terrorists, Erdoğan."
RELATED NEWS: