Avrin Hospital says that 73 martyrs are buried in the cemetery attacked by Turkey
Making a statement about the graves opened by the Turkish state and its mercenaries in Afrin, Avrin Hospital drew attention to the fact that there are 73 martyrs in those graves.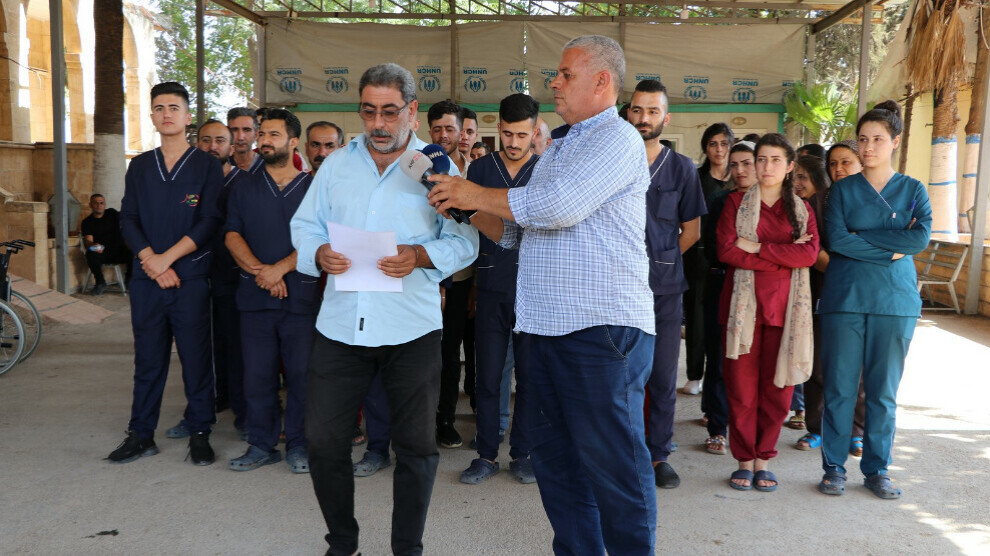 The invading Turkish state and its mercenaries destroyed the graves of some of the martyrs of the liberation of Afrin, and the media linked to Ankara said that it was a mass grave.
Avrin Hospital pointed out that what the Turkish state describes as a mass grave is in fact a cemetery for martyrs and that the remains of 73 martyrs are buried there.
Mistefa Marko read a statement made in front of Avrin Hospital in a press conference which saw the presence of many doctors and health workers.
Marko said: "Most of the healthcare professionals working at Avrin Hospital in Shehba previously worked at Avrin Hospital in Afrin. All of them are living witnesses of the atrocities experienced during the occupation of Afrin. All of the people who fled from Afrin saw the atrocities and experienced them first hand."
Marko added: "The invading Turkish state has been excavating the cemetery built by Avrin Hospital for two days. In addition, it has spread false information. As Avrin Hospital, we are responsible for sharing the facts about this issue with the people. Many civilians fell as martyrs during the invasion attacks carried out by the Turkish state in Afrin."
Marko said: "Afrin Autonomous Administration buried the bodies of the civilians who fell as martyrs in the cemetery in accordance with religious obligations and informed their families. The Autonomous Administration, which could not bury the dead in the Martyr Avesta Cemetery due to the brutal attacks of the Turkish state, buried these martyrs in this area closest to Avrin Hospital. There are 73 civilians, including children, in this cemetery. The false propaganda spread by the Turkish state is a crime against humanity. It is a dirty policy. In this way, Turkey is trying to defame the Autonomous Administration."