British delegation ends tour in northern Syria
A delegation made up of UK Labour and Conservative parties as well as trade union members visited North and East Syria.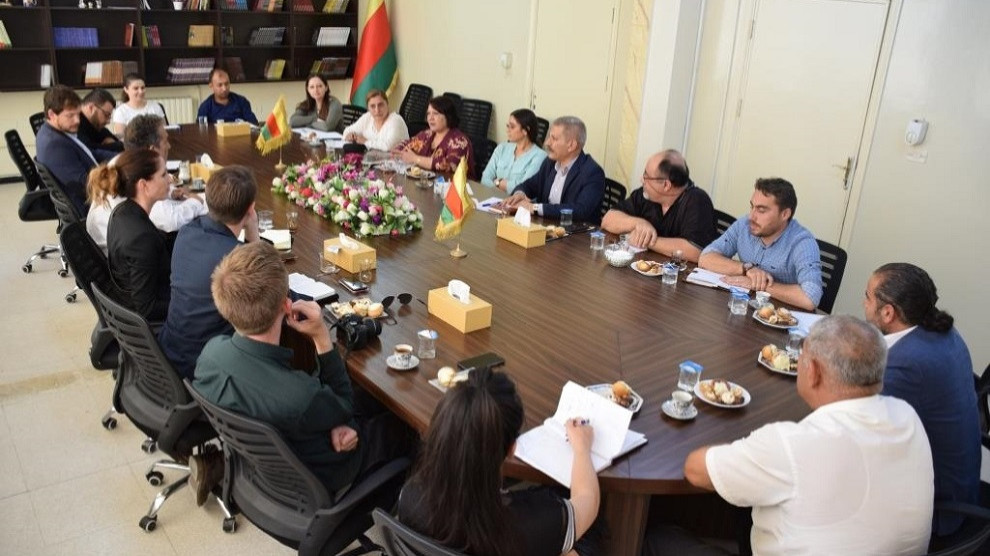 A delegation from England, which has been touring North and East Syria since September 16, visited the headquarters of TEV-DEM (Movement for a Democratic Society) in Qamishlo yesterday.
The 13-people delegation included: British Conservative MP Adam Holloway, UK Labour MP Lloyd Russell-Moyle, Labour Party representatives Maurice Glasman, Ben Norman, Clare Baker, Ryan Fletcher, Arron Meret, Dan Sabbagh, Bambos Charalambous, Crispin Blunt, Ramadan Tong and Huber Ahmed Osman, UK trade union executive Simon Dubbins.
At TEV-DEM office, the delegation was received by co-chairs Xerîb Hiso and Zelal Ceger as well as representatives of various professional associations, the local Women's Bureau and human rights organizations. The meeting was about organizing in civil society organizations and the problems that are challenged.
The TEV-DEM chairpersons informed about the common system of peoples and faiths in the region, with which coexistence is organized under the umbrella of the autonomous administration of northern and eastern Syria. They recalled the devastation inflicted by the attacks by terrorist groups on the region and declared that they were open to all proposals by states and institutions to further develop civil society institutions.
After the meeting with TEV-DEM, the group drove to Semelka border crossing to return to England.