Call for an international inspection of weapons used by Turkey
More reports are coming through of the Turkish state's use of prohibited weapons in its military offensive seeking to invade North and East Syria.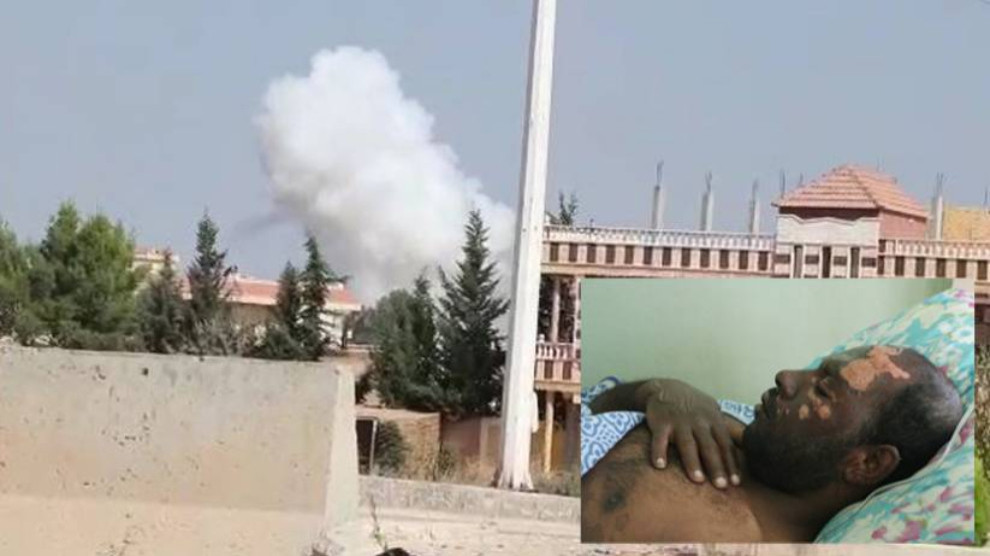 Journalists covering the Turkish incursion in Gire Spi (Tal Abyad) and Serekaniye (Ras Al-Ain) denounced Turkish use of prohibited weapons in addition to mortar, artillery, howitzer and aerial attacks.
Correspondents of the Kurdish news agencies Jin News, Mesopotamia Agency (MA) and Hawar Agency (ANHA) who are following the developments on the ground have revealed further disturbing reports from the area.
A video footage recorded by journalist Nazım Daştan of the MA shows a white smoke rising in Gire Spi center and villages following the bombardments carried out by the Turkish army.
Daştan tells the following regarding the video he recorded in Gire Spi on October 13 noon; "It is the first time I saw a white substance and white smoke. After the bombardment, I headed to the city center to see the body of a civilian burned and reduced to ash."
Journalist Ruken Cemal who has been in Serekaniye since the first day of Turkish incursion stated that Turkey has been using all kinds of heavy weapons in the city since October 9 in an attempt to break through the resistance of the people.
Cemal tells that; "Hundreds of artillery, mortar, missile and aerial attacks are carried out in an hour time. These weapons already cause damage as much as chemical weapons."

The journalists said that the attacks that defied the announced 'ceasefire' have also targeted the Roj Hospital where dozens of civilians are treated.
TEV-DEM (Democratic Society Movement) Executive Board Foza Yusif said that the doctors in the area would conduct an examination into the use of prohibited weapons and share the results with the concerned international bodies.
Yusif stressed the need for experts from the Doctors Without Borders, World Health Organization and concerned authorities to conduct an in situ examination on those killed or wounded in the attacks.
Remarking that Kurdish Red Crescent Heyva Sor and the doctors working in the area have strong indications that chemicals have been used by the Turkish state, Yusif added; "The world public opinion should see in situ how Turkish President Tayyip Erdoğan perpetrates a genocide here."
Yusif emphasised that prohibited weapons were used against civilians in order to break the resistance, adding that doctors have prepared reports on this war crime.
A recent footage from the Weteni Hospital in Heseke city, where civilians wounded by the attacks in Serekaniye are treated, showed civilians with injuries apparently caused by white phosphorus, which is strictly prohibited by international law.
A related report by Amnesty International also denounced "damning evidence of war crimes and other violations by Turkish forces and their allies" in northern Syria.