Call for the protection of children from Turkey's crimes in North-East Syria
Cizire Region Human Rights Organisation called for the protection of children from the crimes of the Turkish occupation state.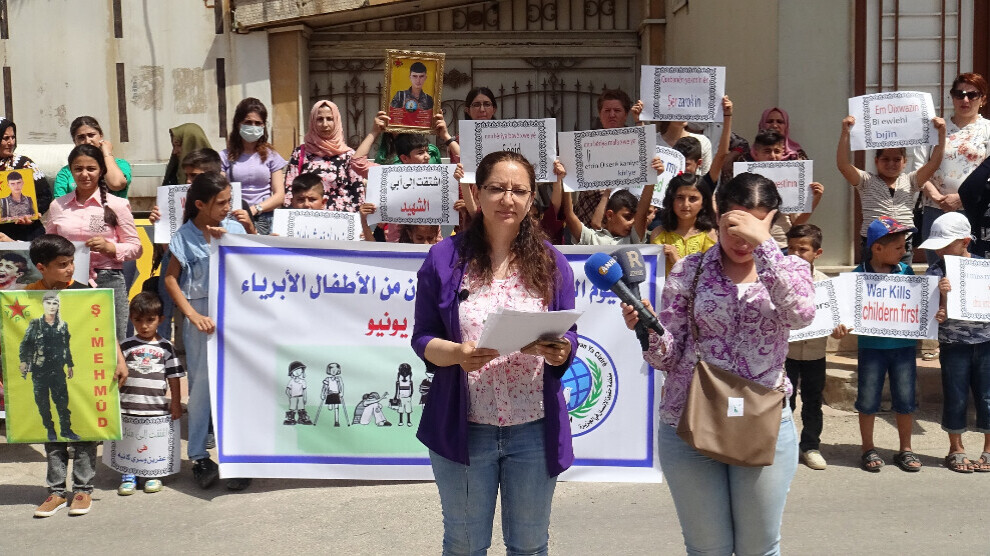 Members of the Cizire Region Human Rights Organisation, accompanied by dozens of children of martyrs, made a press statement outside the EU Council office in the northern Syrian city of Qamishlo on the occasion of June 4, International Day of Innocent Children Victims of Aggression.
Cizire Region Human Rights Organisation official Evin Cuma made a statement on behalf of the group and denounced Turkey's crimes against children and violation of international law.
"Syrian children have been victims of this war and their social harmony damaged," she said.
Cuma protested the silence of the international community on Turkey's war crimes and crimes against humanity which, she said, jeopardize the lives of hundreds of thousands of children.
"The Turkish state and allied mercenaries have committed grave crimes against the people since the launch of the attacks on Syria and North-East Syria. These crimes are a result of the fact that those responsible are not held responsible and brought to account. The Turkish state might launch a new wave of attacks on the region and commit more crimes. Why does the international community remain silent on these crimes and call those responsible to account while Turkey continues its attacks on North-East Syria and prepares for yet another invasion operation," Cuma stated.
Evin Cuma called on the international community to "fulfil your duties and stop new massacres by the Turkish state."