Five political parties found 'Kurdish Forces Union' in NE Syria
The establishment of the new political entity was announced in Qamishlo.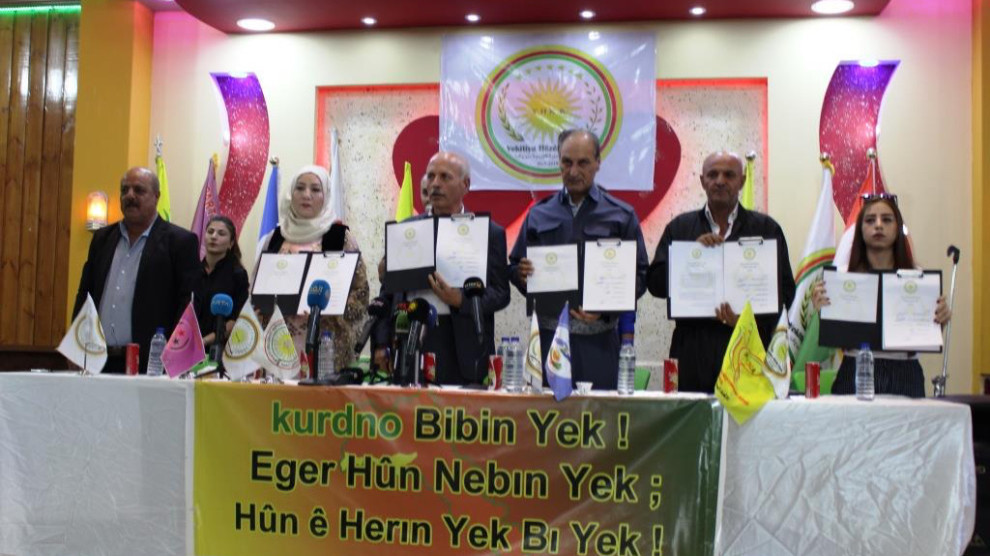 Five political parties operating in North and East Syria have announced founding 'Rojava- Kurdish Forces Union'.
The new political entity is made up of Partiya Biratî ya Kurdistanê, Partiya Demokratîk a Kurdistanê-Sûriyê, Partiya Yekitiya Nîştimanî ya Azad, Partiya Têkoşîna Demokratîk and Partiya Gelêrî ya Kurdistanê.
The founding of the 'Rojava- Kurdish Forces Union' was announced at a press conference attended by the mentioned parties and many politicians.
Speaking at the press conference which was held in Qamishlo, Rojava- Kurdish Forces Union Spokesperson Abdulkerîm Siko said that; "We must stand against any and all attacks aimed at the Kurdish people and Kurdistan, especially the Turkish state's threats against Rojava Kurds."
Siko also remarked that; "We should increase our support for the YPG/YPJ military forces to defend the region with the military and political achievements made in Rojava."
He added that the Rojava- Kurdish Forces Union had its door open to all political forces in North and East Syria.
Democratic Struggle Party Co-president Xunav Mele then read the document on which all the 5 parties agreed on.
The document highlighted the union of forces in the region, joint undertaking among national attitudes, defence of the rights of Kurds in Syria, the duty of national unity and support for SDF, YPG, YPJ and Internal Security Forces.