Five SDF fighters laid to rest in Derik
Five SDF fighters who fell martyr during the resistance to the Turkish occupation were laid to rest with a mass ceremony in Derik.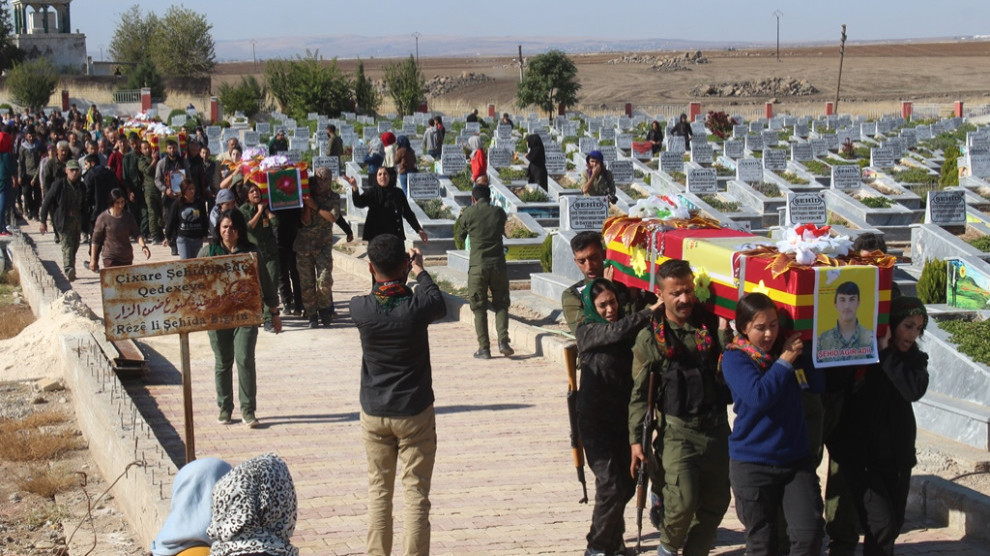 Thousands of people gathered in front of Martyr Hogir Hospital, waiting for the coffins of SDF fighters Ayşe Abdullah (Agirî), Hacî Şimşek (Agirî Adil), Seyfellah Dira (Zinar Kanî Reş), Salih Azka (Cahid) and Mihemed Ehmed (Şevger Tolhildan). The crowd accompanied the martyrs to Martyr Xebat Dêrik graveyard with a long convoy.
At the ceremony, Dîlber Yûsif, Autonomous Administration executive of the Cizre region, expressed his condolences to the families of the martyrs and the peoples of North-East Syria.
Despite the ceasefire reached with the SDF, said Yûsif, the invading Turkish state and its mercenaries continued their attacks and are targeting civilians.
Yûsif also said that the invasion attacks are actually reactivating terror in the region and the recent bomb attacks in Qamishlo were examples of this.