Foza Yusif: Ceasefire is a plot, UN shouldn't be complicit
Kongreya Star Coordination Member Foza Yusîf said the so-called ceasefire made with Turkey was a plot against the peoples of the region and called upon the UN not to become a partner with the genociders.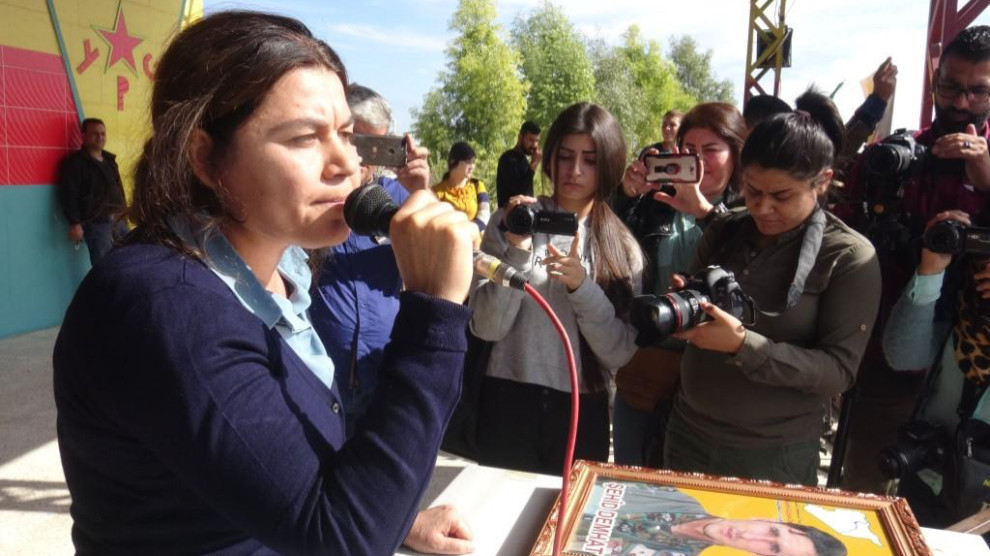 SDF fighters Mihemed Alî (Berxwedan Qamişlo), Abdulhemîd Hesen(Can Qamişlo), Yusif Erdogan(Demhat), Abdulhemîd Hesen, Can Qamişlo and Demhat, who lost their lives in the resistance against Turkish invasion, were laid to rest in the Qamishlo city.
Kongreya Star Coordination Member Foza Yusîf also attended the funeral and addressed the crowd, speaking about the agreement made between Turkey and the US on October 17, and the one made between Turkey and Russia on October 22.
Yusif said: "The agreements are said to be aimed for a ceasefire but continue to bury our martyrs every day. Where is the ceasefire they are talking about? The so-called ceasefire agreement is the biggest lie told to the people and is a new plot against the peoples of the region.
Addressing her remarks to US President Donal Trump and Russian President Vladimir Putin, Yusif said the following: "Which deals have you made to subject our people to genocider? You deceive the public opinion with a ceasefire. The people of the region are massacred and our lands invaded. The attacks Erdoğan has been carrying out with tyrant states are a genocider against the people of the region."
Yusif said that Turkish President Recep Tayyip Erdoğan invited UN Secretary General to legitimize his attacks and criticized the UN for being a partner to the Turkish state's genocidal attacks by accepting the invitation.
Yusif said: "Don't become a partner with Erdoğan who massacres Kurds, Syriacs, Armenians and Yazidis."
Yusif also criticized the exclusion of the Autonomous Administration of North and East Syria in the Constitutional Committee, adding; "Five million people have been kept out of the Constitutional Committee talks. This is an atrocity against our people and indication of Erdoğan's ongoing massacres."
Stressing that they would not accept the Constitutional Committee in this way, Yusif said they were ready to establish a dialogue with the parties. She added; "Those wanting to establish a dialogue should esteem the Autonomous Administration and the SDF that have protected the people of Syria."