Heavy Turkish mobilization in Serêkaniyê after protests by residents
The Turkish-occupied Serêkaniyê city is witnessing a heavy security alert by the Turkish army and its mercenaries following yesterday's protests against crimes and violations.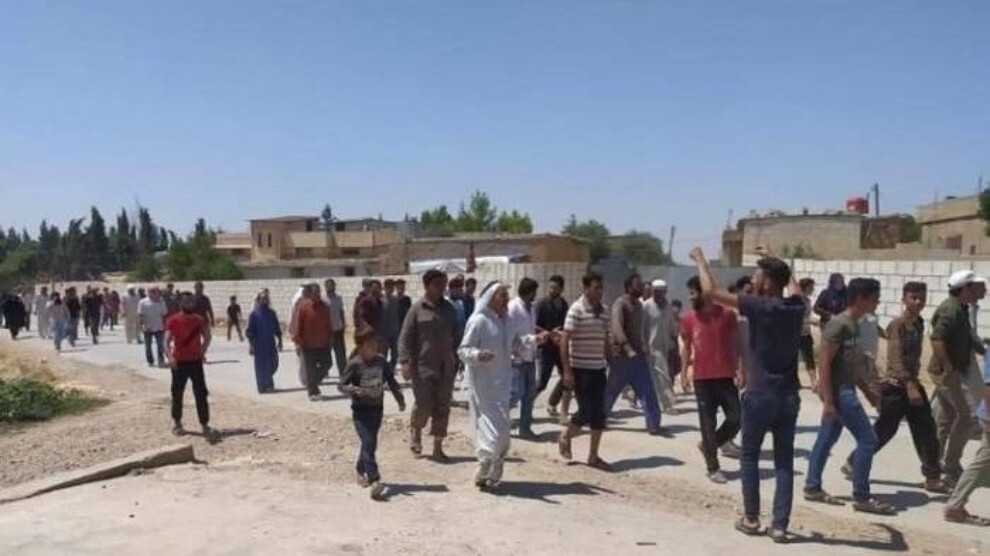 The northern Syrian city of Serêkaniyê (Ras al-Ain), occupied by the Turkish army and allied mercenaries, is witnessing for the second day a popular demonstration in protest against the poor security situation, chaos, theft, corruption, murder and kidnapping.
According to reports from the ground, the occupied city is witnessing security tension and strict measures by mercenaries and the Turkish army today, in addition to the extensive spread of checkpoints in an attempt to suppress any demonstrations.
While the residents took to the streets in the town of Til Helef yesterday (June 1), the Turkish occupation forces and their mercenaries attacked demonstrators, closed main roads, markets and shops, and imposed a curfew.
The local people are protesting against poor living conditions, increasing violations and crimes of the Turkish occupation army and its mercenaries, which include killing, torture, kidnapping, looting and property confiscation.
The protests came after the so-called "Health Committee" had closed pharmacies and seized medicines in medical warehouses in Serêkaniyê on the 28th of June with the aim of obtaining bribes and making money.
BACKGROUND
Three years ago, the Turkish state occupied the northern Syrian cities of Girê Spî (ar: Tal Abyad) and Serêkaniyê (ar: Ras al-Ain) after brutal attacks. Both towns were almost completely destroyed by the attacks in October 2019. Since the occupation by the Turkish army and its Islamist proxies, multiple war crimes and human rights violations have been committed against the indigenous population in the occupied areas, including forced displacement with the aim of settling the families of Islamist militias there.
As before in Afrin, the Turkish occupiers are also pushing for the change of the demographic structure in Girê Spî. More than 100,000 people have been displaced since the occupation of Girê Spî Canton and live under extremely precarious living conditions as refugees in the regions of Raqqa, Tabqa, Ain Issa and the surrounding areas. More than 6,000 people have been accommodated in a reception camp set up by the Girê Spî Cantonal Council in Tell Samin north of Raqqa in 2019.