HRE fighter martyred in Turkish attack in Afrin
The Afrin Liberation Forces announced that their fighter Rehman Hisên was martyred in an artillery attack by Turkish occupation forces in northwestern Syria.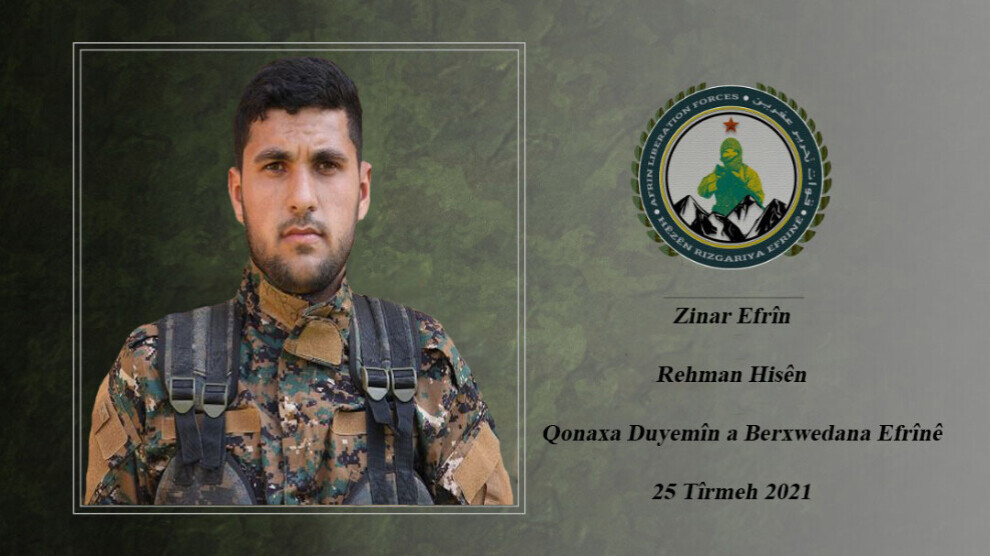 The Afrin Liberation Forces (HRE) announced the death of one of their fighters. According to a statement issued by the resistance group on Monday, Rehman Hisên died yesterday, Sunday, during a bombardment by Turkish occupation forces in the Afrin area. His personal details are:
Nom de Guerre: Zinar Efrîn
First and last name: Rehman Hisên
Names of mother and father: Emîne - Elî Hisên
Date and place of martyrdom: July 25, 2021 / Afrin
According to the HRE, Rehman Hisên was born in Afrin to a patriotic Kurdish family. Rehman Hisên joined the HRE, founded in 2018 after the occupation of the formerly self-governing canton by Turkey and allied Islamists, in 2020. "He participated in our resistance with passion and a high fighting spirit and fulfilled his duties with dedication and responsibility. He maintained this resolute attitude until the last moment of his life and joined the caravan of Martyrs of Freedom. In the person of our companion Zinar Efrîn, we remember all our martyrs with gratitude and respect and express our sympathy to their relatives and to our people," HRE said.