International Water Forum resumes today in Hesekê
Speakers at the 3rd session of the Northern and Eastern Syria International Water Forum, said that the Turkish state is waging a war more dangerous than a military one against Syria and Iraq by cutting off water supplies.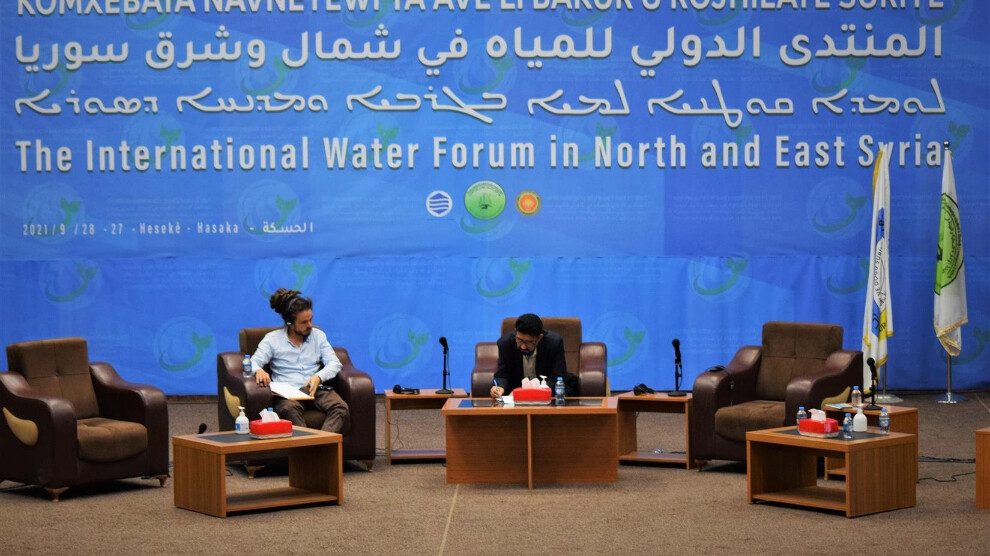 The Northern and Eastern Syria International Water Forum ended its first day of work late on Monday night. The 3rd and last session of the day, featured Egyptian Professor of Political Science and Public Law Muxtar El Xebashi and Rouillion Institute for International Relations and Political Studies, Founder and Director of Corner House Organization Nicholas Herald Yard.
The speakers said that the water war and its transformation into international conflict will deepen the problems in the Middle East and the world at a later stage. They added that it will be a source of conflict between countries and governments, and it will be an important cause of wars between societies.
The speakers drew attention to the policy followed by the Turkish state against neighbouring countries and said that Turkey is trying to take the future of the peoples under its own control by dividing the region.
Stating that the Turkish state uses the water of the Tigris and Euphrates rivers as a tool of war against the Kurds, the speakers also drew attention to the fact that the Turkish state ultimately uses water to achieve its political goals.
Stating that the Turkish state, which stores water in 22 dams built in the Euphrates and Tigris basins, aims to leave Syria and Iraq without water, the speakers emphasized that Turkey aims at taking the region under control.
The experts, who warned that the dams built by Turkey would cause serious problems in the region, added that especially Northern and Eastern Syria would be adversely affected by this.
Stating that the Turkish state has been a serious threat to Syria and Iraq since the 90s, the speakers said that the Turkish state violated even the agreements they signed.
The speakers concluded that there is no difference between protecting water security and protecting human security.
The water forum will resume today. It is articulated in 5 sessions. The last two sessions will be held today.