Manbij people take to the streets against invasion attacks
Manbij people marched against the attacks of the Turkish state and allied gangs and conveyed the message that they will enhance the resistance.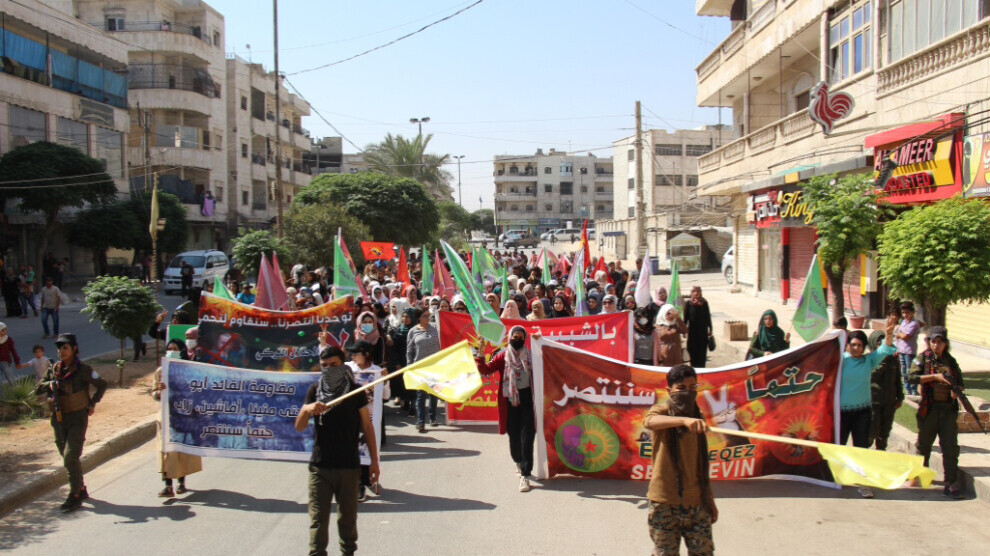 The Revolutionary Youth Movement and Association of Young Women in the Manbij city staged a march to condemn the attacks of the Turkish state and its allied gangs against North and East Syria and Kurdistan territories.
During the march, the activists protested the Turkish state's bombardment against North and East Syria, the attacks targeting Manbij, Til Rifat, Gire Spi and Til Temir and all operations against South Kurdistan (North Iraq).
'Manbij got rid of ISIS and the Turkish state could not get over this'
The march was followed by a demonstration where Mihemed El-Hesen, co-chair of Manbij Youth and Sport Committee, read the press statement.
Mihemed El-Hesen condemned the Turkish state's attacks targeting North and East Syrian regions, especially Manbij, northern regions of Iraq, Zap, Avashin and Metina, saying, "These attacks are the continuation of the Turkish state's previous plans on changing the demographical structure of the region."
Recalling that the Turkish state has fiercely bombarded civilian settlements since Manbij was liberated from the darkness and the persecution of ISIS, El Hisen warned that Turkey aims to cause fear and chaos among the people.
'We will enhance the resistance'
Mihemed El-Hesen noted that the Turkish state which has expanded into Syria and northern Iraq seeks to defeat the Democratic Nation and Autonomous Administration projects which will liberate the Middle East peoples. He underlined that they will enhance the resistance against the attacks and increase their willpower to conserve the achievements gained thanks to the martyrs. Stressing that they will respond to the hostile attacks, he expressed that they will stand with their military forces and defend the peoples in the region.