Martyr Selama laid to rest in Tabqa
Speakers highlighted their support for the SDF against the invasion of the Turkish state and allied mercenaries.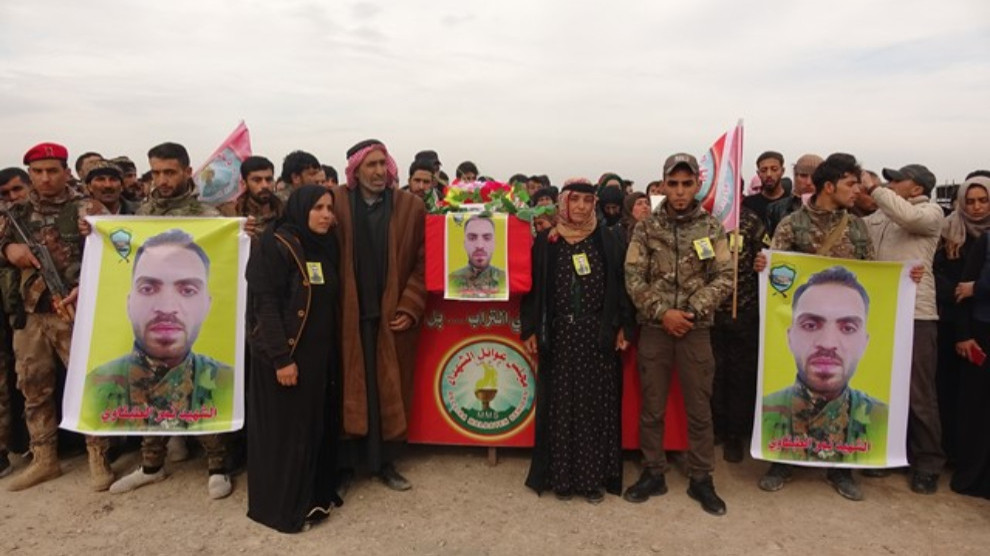 Tabqa Military Council fighter Mihemed Selama (Nemir Tebqawî) who fell in the attacks of the occupant Turkish state was laid to rest in Tabqa.
Masses joined the funeral at the Cemetery of Martyrs, which began with a military ceremony by SDF (Syrian Democratic Forces) fighters.
Speaking here, Tabqa Justice Council Co-president Hamid Ebdulrehman stressed that martyrs have sacrificed their lives for a free and honorable life. He pointed out that the Turkish state used mercenaries to occupy Syria and Libya.
Speaking after, Emîna Ebdulrezaq of the Tabqa Council of Martyrs' Families emphasized that they would be supporting the resistance of the SDF that defends the rights of the oppressed peoples.
After the speeches, the martyr's certificate of death was read out and handed over to his family.
Mihemed Selama was then laid to rest with slogans.