Martyrs Cûdi Egîd and Sami Eles Mihemed laid to rest
YPJ fighter Cûdi Egîd, who fell as a martyr in the attack carried out by the invading Turkish state, and Self-Defense Forces martyr Sami Eles Mihemed, who fell while on duty, were laid to rest.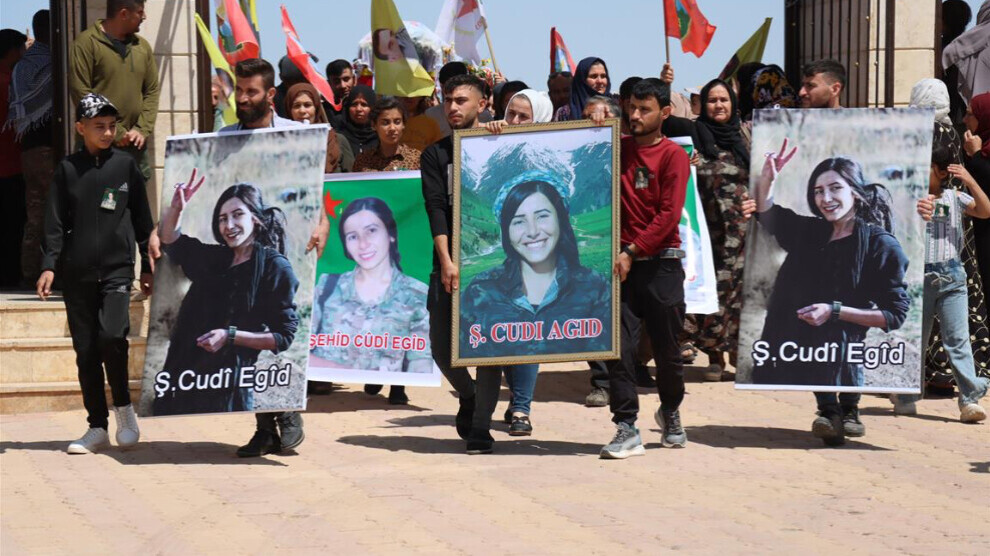 YPJ fighter Cûdi Egîd (Tugba Karakoç) fell as a martyr following an airstrike carried out by the Turkish state in the village of Çelebiyê in Kobanê on 11 May.
The funeral of the YPJ fighter was held at the Martyr Dijwar Cemetery in the village of Dawûdiyê in Hesekê.
Speaking at the ceremony, Martyrs' Families Council member Rojda Ehmed underlined that "the martyrs sacrificed their lives thanks to the philosophy of Kurdish People's Leader Abdullah Öcalan to realize the hopes of the people of Northern and Eastern Syria."
Evindar Derik, one of the commanders of the Cizre Regional Military Council, drew attention to the efforts of Cudi Egîd's family in the Northern and Eastern Syrian revolution and the role of Cudi in the ranks of the YPJ.
A funeral was held for the Self Defense Forces martyr Sami Eles Mihemed, who fell while on duty, in Şedade, in the province of Hesekê.
Hundreds of district residents and Arab tribal leaders attended the ceremony. After the military parade, Martyr Families Council member Ebir Çayan emphasized the role of the martyrs in the defense of the country and added that the gains in the region were achieved thanks to the sacrifices of the martyrs.
Demhat Hesekê, from the Self-Defense Forces Commanders, talked about the resistance of the martyrs to ensure freedom, peace and security in the region.