Masses in Shehba protest the conspiracy against Shengal
Afrin IDPs in the Shehba canton voiced their rejection of the Baghdad-Hewler on Shengal during a mass demonstration.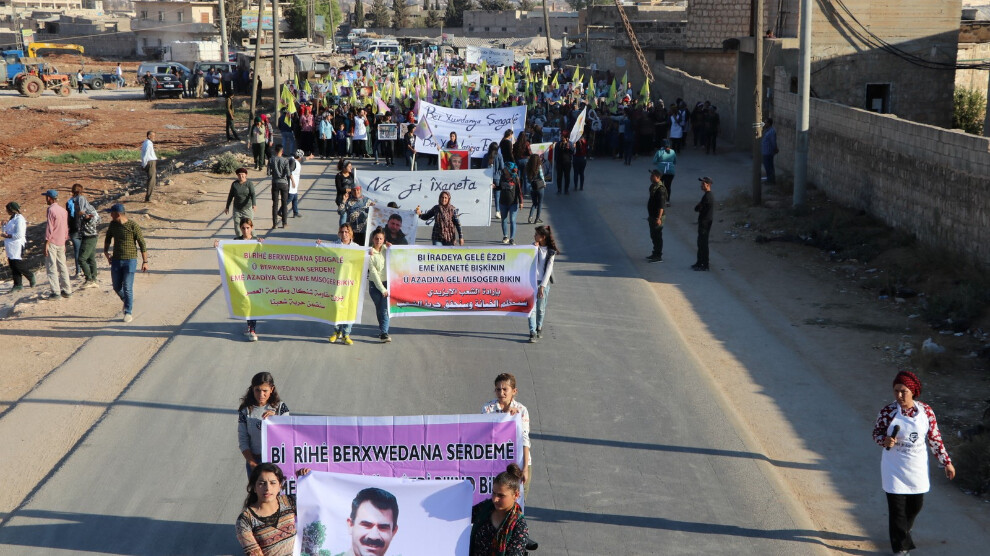 IDPs from Afrin and the residents in the Shehba canton took to the streets on Saturday to denounce the plots that are hatched against Shengal (Sinjar), expressing their rejection of the agreement between the governments of Hewler (Erbil) and Baghdad on the future of the Yazidi homeland.
On the 9th of October, the Iraqi government and the Southern Kurdistan regional government signed an agreement regarding Shengal, which was widely rejected by the people in Shengal.
The demonstrators raised pictures of the massacres committed against the Yazidi people in in 2014 and pictures of the Kurdish leader Abdullah Ocalan.
The demonstrators gathered in the village of Ma`rat al-Muslimiya, and observing a minute of silence, a member of the Kongra Star Coordination in Afrin canton, Suraya Mustafa, delivered a speech in which she denounced the plots being hatched against the Yazidi people and said: "The Yazidi people have been subjected to many massacres but never bent the knee."
"We will not pave the way for such massacres. We tell the occupiers and conspirators that the people of Afrin and Shengal are one. In the spirit of Afrin's resistance, we will frustrate all conspiracies against the Kurdish people and the Yazidi people in particular," she added.
An administrator of the Yazidi Women's Union in Afrin, Ayse Sido, delivered a speech in which she said: "Where was the KDP when the people of Shengal were massacred, where was the Baghdad government when thousands of our Yazidi people were killed?"
The demonstration ended with slogans saluting Shengal's resistance and denouncing the plots against the Kurdish people.