MSD calls on the UN to act immediately against Turkey's announced invasion
Following the Turkish state's new invasion threats, the Syrian Democratic Council (MSD) urged the international community, particularly the United Nations, to "intervene immediately".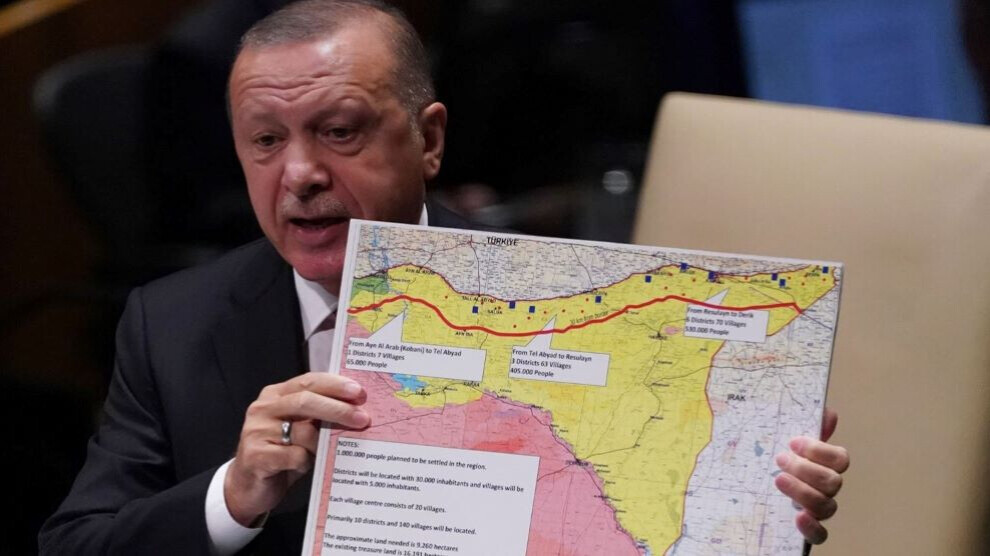 The Syrian Democratic Council (MSD) called on the United Nations and the international anti-ISIS coalition to take immediate action against Turkey's announced invasion of the autonomous region of northern and eastern Syria. The threat of the Turkish leader Erdogan is directed against the sovereignty of Syria, the MSD said in a statement released on Thursday.
MSD said "The goal of attempting to resettle Syrians in other regions following the expulsion of indigenous populations of northern Syria is to modify the demographic structure of the Kurdish territories. This violates international resolution 2254 on refugee return and is a cruel crime. The 30-kilometre area Erdogan is referring to is populated by Kurds, Syriacs, Armenians, and Yazidis. In this region, there are also detained ISIS members and their families."
The Turkish state has not established a "security zone" in Afrin, Idlib, Girê Spî, al-Bab and Serêkaniyê, but rather an occupation regime and used Syrians as gangs in foreign wars, noted the MSD statement which further said, "It is apparent that the Turkish state wants to build an emirate and gather extremists and jihadists there. Northern Syria is to be made a safe haven for supporters of an Islamist caliphate. The region of northern and eastern Syria is threatened by a return of ISIS, the cells of which remain active here. A few months ago, ISIS attacked the Sina prison in Hesekê. The goal of this attack was to free leading Islamists and tens of thousands of relatives in Hol Camp. ISIS wanted to take control of the area again."
CALL ON THE UN AND THE INTERNATIONAL COMMUNITY
Warning that The Turkish state's threats endanger the international and regional future and peace, MSD underlined that the Turkish state will "frustrate all efforts against terrorism."
"This also endangers the prospects for a political solution in Syria. The Turkish state seeks to geopolitically empower terrorists and extremists in the name of opposition and involve them in Syria's future activity. We condemn any potential military operation. The AKP is attempting to destabilize Syrian peace efforts and international stability initiatives. Countries that are part of the International Coalition against ISIS bear a great deal of responsibility. They can prevent the Turkish state from causing humanitarian disasters, migration, ethnic genocide, and interventions particularly against Yazidis, Kurds, and Christians.
We urge the international community and the UN to take a serious stand against the Turkish state's threats, to intervene immediately, and to take a strong and resolute stance to defend Syrians' last hopes for a political solution. We also urge Syrians and their representatives to prioritize national obligations over political interests in order to address the Syrian issue through dialogue."