Munzur: Öcalan should be among us
Ferzende Munzur, a member of the Freedom for Abdullah Öcalan Initiative, said that the ongoing campaign for the freedom of Abdullah Öcalan, though important, remains insufficient. "Our struggle must be far-reaching and multidimensional," he underlined.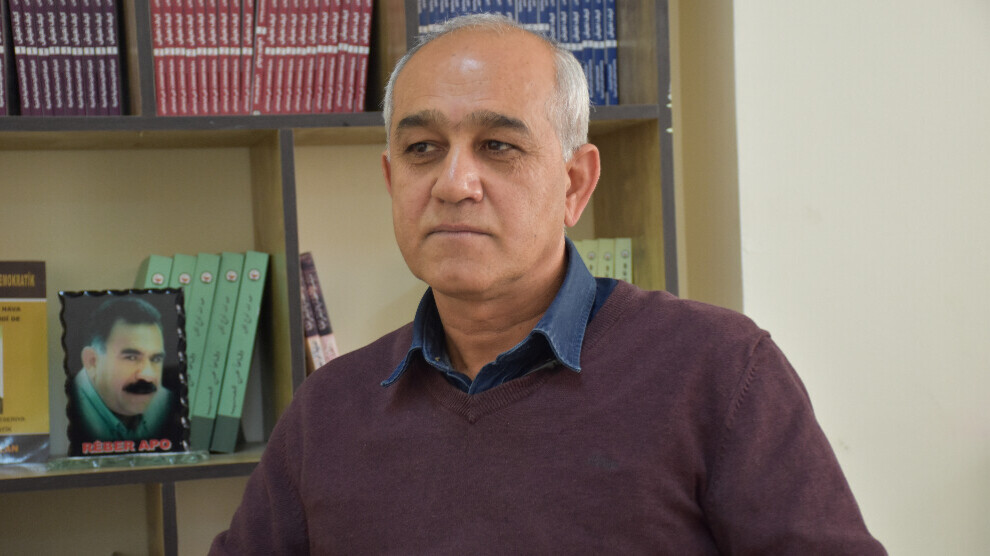 Ferzende Munzur, a member of the Freedom for Abdullah Öcalan Initiative, expressed his concern over the absolute isolation imposed on Kurdish leader Abdullah Öcalan, saying, "The European Committee for the Prevention of Torture (CPT) tolerates his isolation. The Committee stated that there was torture in Imrali prison, but did not take any concrete steps."
Öcalan has been under aggravated isolation for 23 years. No information has been received from him since the interrupted phone call on March 25, 2021, and he is not allowed to meet with his family members and lawyers.
Lawyers from Asrın Law Office have submitted 147 applications to visit their client with no reply from authorities since March 25, 2021.
"Öcalan was kidnapped by the world's states as a result of a conspiracy. He was tried in an unjust court," Munzur said and continued, "Every detainee has the right to see his family and lawyers. Moreover, Öcalan's health should be under control. We know that he has health issues. We do not have any information on whether he receives medical check or treatment. Conditions are very harsh in Imrali prison island."
'THE WORLD REMAINS SILENT'
"Every prisoner has the right to communicate with the outside world, but Öcalan cannot enjoy it. Furthermore, his right to access to newspapers, magazines and television is violated. The CPT has been to Imrali prison many times. There are many relevant committees in the world. They should go to Imrali and report their visits. Turkey takes advantage of the CPT's silence  and aggravates the isolation of Öcalan each day," Munzur remarked.
'ÖCALAN PROMOTES DEMOCRACY'
He continued, "Öcalan's projects and the messages from Imrali are not in the interests of the Turkish state. This is because of the fact that his project promotes democracy, peace and diversity. Adopting the mentality of one nation, one state and one flag, the Turkish state is afraid of Öcalan's paradigm. The Kurdish people and their friends should expand their struggle for the physical freedom of Öcalan."
'OUR STRUGGLE SHOULD BE MULTI-DIMENSIONAL'
"Öcalan's resistance is sacred and a great message to us. Our people continue to struggle for his physical freedom in many places and regions, but this is not enough. Our struggle should be far-reaching and multidimensional. We should raise our voice on the streets every day. Political, diplomatic, ideological and legal struggles should also be carried out at a high level. Öcalan does not give up on his principles under all difficult conditions. He promotes the freedom of the peoples, and he does not compromise his principles under absolute isolation. He should be among us."
'THE CURRENT CAMPAIGN IS NOT ENOUGH'
Munzur pointed out that a significant struggle is carried out, but it is insufficient, adding, "Öcalan took the first step of the struggle in Ankara and spread it to Kurdistan. He introduced historic changes during the Imrali process. He made the struggle world-wide with strategic, tactical and ideological changes. Öcalan turned Imrali into a place of resurrection. And since the conspiracy was global, the answer should be global."