Names of two YAT fighters killed in Turkish attack announced
The SDF published the names of YAT fighters killed in a Turkish drone strike on a base near Hesekê operated jointly with the international coalition against ISIS.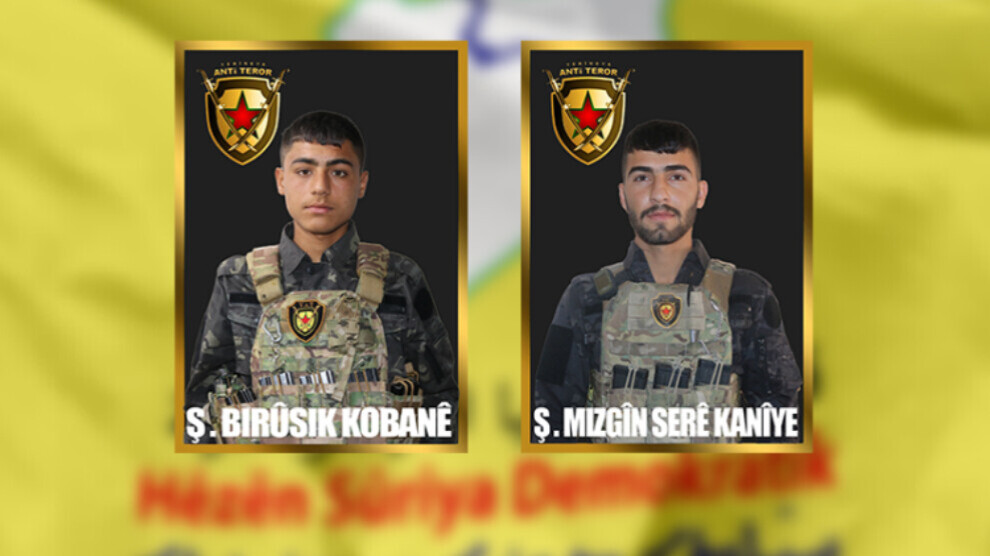 The media centre of the Syrian Democratic Forces (SDF) has published the names of the YAT members killed in a Turkish drone attack.
A UAV belonging to the Turkish occupation targeted the security section of a combined base of our forces and the International Coalition forces, located north of Hasaka, 50 km from the Syrian-Turkish border on Tuesday.
"The treacherous attack resulted in the martyrdom of two fighters of our anti-terrorism units (YAT) and three others injured, including two severely wounded," SDF said.
The statement added, "The anti-terrorism units (YAT) are responsible for countering the terrorist cells of ISIS. Nevertheless, they have been targeted by the Turkish occupation over the last period. On July 22, 2022, the commander of the (YAT), Jian Tolhdan, along with the Yat fighter, Barin, were martyred due to a Turkish UAV strike on Qamishlo Road."
The ID information of the two fallen fighters is as follows:
Full Name: Muhammad Abdo
Nom de guerre: Brusk Kobani
Father's name: Khaled
Mother's name: Aisha
Place and date of birth: Kobane, 2003
Place and date of martyrdom: Al-Hasaka, November 22, 2022
***
Full Name: Montaser Omar
Nom de guerre: Mizgin Serêkaniyê
Father's name: Bashir
Mother's name: Fasiha
Place and date of birth: Serêkaniyê, 2000
Place and date of martyrdom: Al-Hasaka, November 22, 2022