North and East Syria Jineology Academy opens tent against killing of women activists
North and East Syria Jineology Academy launched an action against the targeting of female politicians in Hesekê.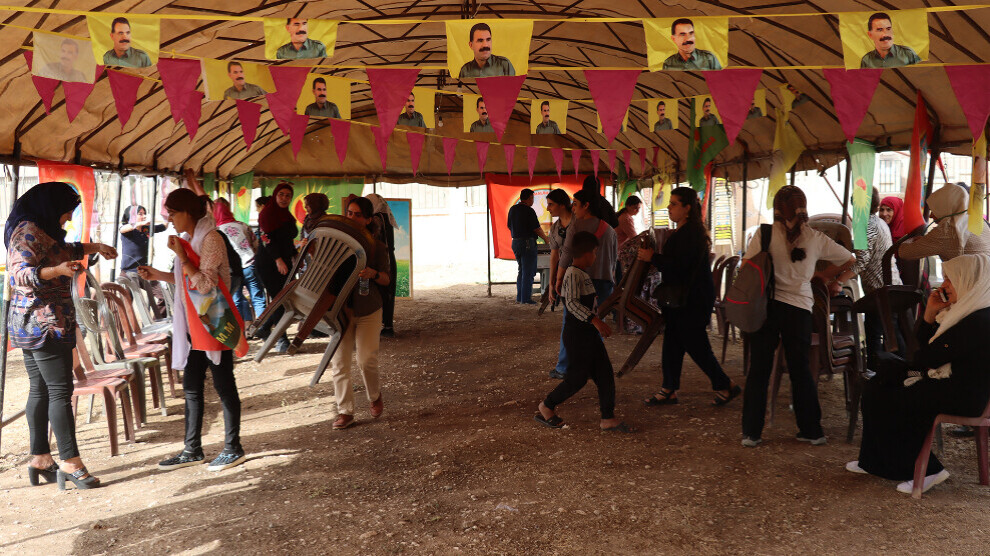 Nagihan Akarsel, academic, activist and editor of the Jineology Journal and a member of Jineology Research Center in Sulaymaniyah, was killed in Bextiyar District of Sulaymaniyah. North and East Syria Jineology Academy set up a tent protest in Hesekê to condemn the killing.
The tent was set up in the Rêber Apo Park in Hesekê's Nasira District. Photos of women killed were put up in the tent. There were Justice and Execution Bureau co-chair Zeyneb Mihemed, Jina Amini and Martyr Nagihan Akarsel.
According to the Preparatory Committee, the tent action will last two days. On the first day, Wednesday, Jineology Academy made a statement, while Kongra Star, Hesekê Martyrs' Families Council, Young Women's Union and many women paid a visit to the tent.
On the second day, today, members of institutions affiliated to the Cizre Region Autonomous Administration, TEV-DEM and PYD representatives will attend the action, which will end with a statement.
Eliya Amara, a member of the Jineology Academy, said: "This tent represents the will of every free woman. With this action, women are responding to the policies of the fascist Turkish state and all patriarchal states towards women. In addition, with this action, we want to reach the voice of every free woman and tell the whole world that the will of women will not be broken by the bullets fired at Nagihan Akarsel."
Nobody can stop our struggle
The Women are Protecting Kurdistan from Occupation Initiative also made a statement about the killing of Akarsel.
The statement said: "She worked in Rojava. She took part in struggle areas such as Afrin and Shengal. She was also held captive in the prisons of the Turkish state for several years, and worked with women from Bashur Kurdistan at the Kurdish Women's Affairs Bureau and the Sulaymaniyah Research Center. The enemy will not be able to prevent our struggle. Our struggle will continue until our people have their legitimate rights."