Operations against ISIS continue after Sinaa prison attack in Hesekê
The Internal Security Forces and the SDF are continuing operations to root out remaining ISIS fighters who attacked the Sinaa Prison. A significant amount of the group's military equipment has been seized.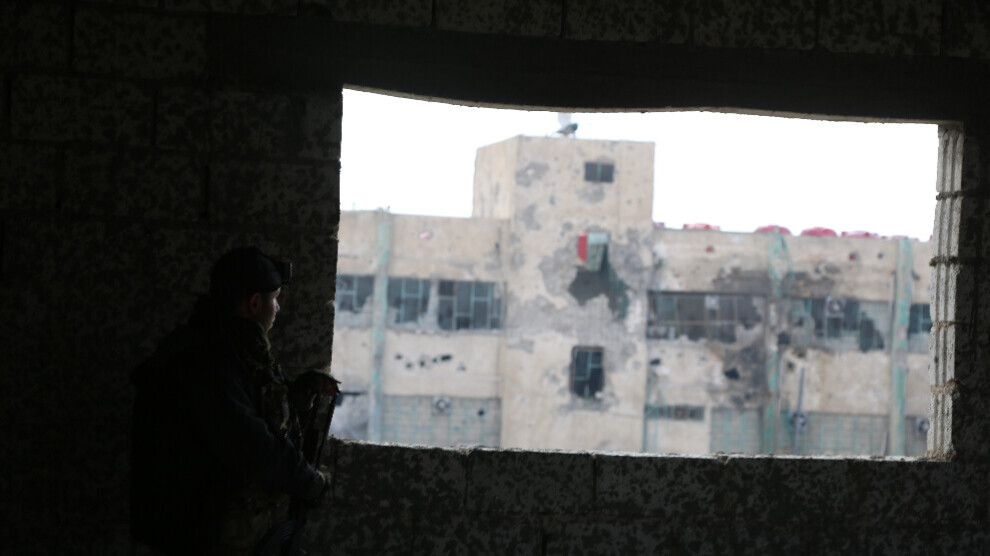 North and East Syrian Internal Security Forces and Syrian Democratic Forces (SDF) are continuing their combing operations in and around the vicinity of the Sinaa Prison on the second day after it was taken under control.
The Internal Security Forces have also launched a series of operations in other neighbourhoods of Hesekê. The operation to clear the sleeper cells of ISIS is continuing in Xiwêran and Zihûr neighbourhoods. During the operations, numerous weapons belonging to ISIS were seized. The Internal Security Forces have seized a large number of Kalashnikovs, BKC, bomb belts and bombs.
The SDF announced that the Sinaa Prison was taken under control at 14:50 on January 26 and that nearly 3,500 ISIS fighters surrendered.
CHILDREN IN REHABILITATION CENTER
Hundreds of children trained by ISIS have been taken to different rehabilitation centres in Hesekê. It is reported that the children are not detained but held for rehabilitation purposes. The SDF urged relevant countries to take care of their own citizens and to establish a joint international solution mechanism.
EHMED: A COMPREHENSIVE AND SIGNIFICANT ATTACK
SDF General Command Member and one of the commanders supervising the ongoing operations, Newroz Ehmed, told MA that the high-ranking ISIS members captured in the Baxoz (Deir ez-Zor 2019 operation) operation were being held in the Sinaa Prison, which, therefore, is important for ISIS members. "It is noteworthy that the ISIS attack came after Turkish president Erdogan said that 'We will attack using a new strategy'. It was indeed a far more comprehensive and different attack than the previous ones. They recruited a large number of foreign fighters for the attack. The attacks were organized in a very different way than before," Ehmed said.
'TURKEY ATTACKED WHILE WE WERE CONFRONTING ISIS'
Ehmed revealed that groups backed by Turkey, as well as some other groups from Iraq and Syria, came to the region to take part in the ISIS attack. "With the attack, all of these groups have become active."
"Many of ISIS fighters who have surrendered admit that they came from areas controlled by Turkey. When we started to repel these attacks and take control of the prison, the Turkish attacks resumed once again. This was also remarkable. The investigations we are currently carrying out will disclose their relations in detail," Ehmed added.
Arêz Abdullah, a member of the Political Bureau of the Patriotic Union of Kurdistan (PUK), also praised the SDF's victory over ISIS in Hesekê.