"People of North-East Syria will frustrate the attacks through self-defense"
Kongra Star member Rehan Luqo explained that the Turkish attacks against north and east Syria, especially Kobane, come in retaliation for the defeat of ISIS. She stressed that the people of the region do not trust international forces.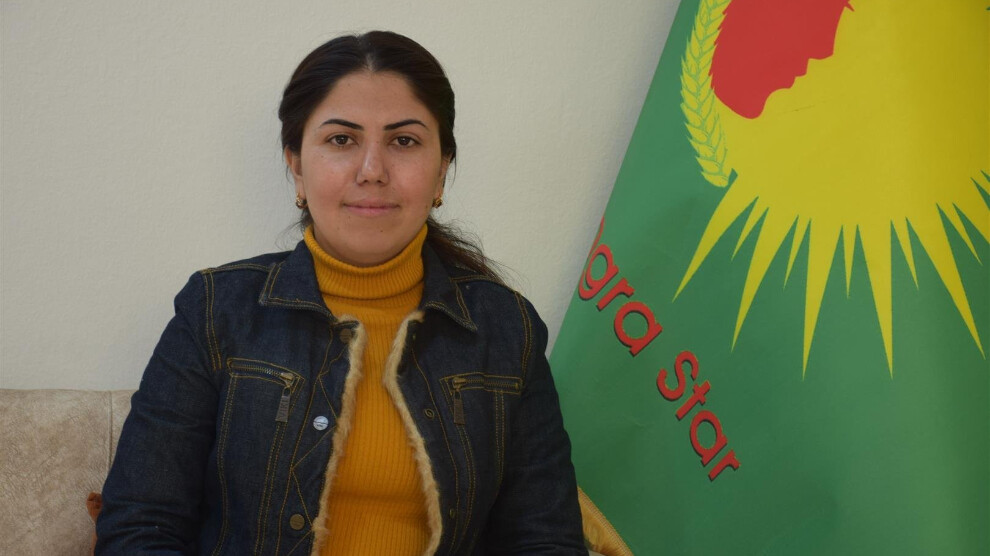 The villages of Alishar, Tal Hajeb, Qarmog, Khani, Sarzuri and Koltepe, located east of the city of Kobane, were subjected to violent bombardment by the Turkish occupation state, as a result of which a citizen was martyred and 12 others, including children and women, were injured, on the 8th of January.
Speaking to ANHA on the ongoing brutal attacks on the north and east of Syria, Kongra Star Coordination member, Rehan Luqo, condemned the crimes committed by the Turkish occupation against the people of north and east Syria as a threat to the security and safety of the region, and a flagrant violation of all international laws.
"The Turkish occupation state systematically targets citizens who adopt the project of the democratic nation and the brotherhood of peoples, in addition to targeting women in the first place," said Rehan Luqo. "On June 23, 2020, in Helinc, southeast of Kobane, the Turkish occupation state targeted 3 women, including activists in the Kongra Star Coordination, and they were martyred as a result."
Luqo indicated that "the army of the Turkish occupation state targets civilians in north and east Syria, citing the Turkish drone attack in late December that killed six activists of the Revolutionary Youth and the Young Women's Union.
Regarding the increasing severity of the Turkish attacks on the city of Kobane, Luqo said: "Kobane is a steadfast city that has demonstrated its democratic humanitarian project to the whole world, and exposed Turkey's repressive policies, its colonial expansionist dreams, and its systematic attacks against the components of the region in general and the Kurds in particular, in clear evidence of the failure of the pan-Turanism plans founded on wars, massacres, and exterminations.
Rehan Luqo, condemned the attacks on Kobane canton and held the "guarantor" forces responsible for the brutal Turkish attacks, and said: "These parties must fulfill their responsibilities towards Turkish crimes and mercenary groups, and they must stop these massacres. The attacks did not stop, as they target civilians with drones and by land through their mercenaries, which threatens security and stability in the region."
She added, "The silence of the international coalition regarding what the Turkish occupation is doing is evidence of its partnership with Turkey. The airspace of northern and eastern Syria is under the guarantee of the international coalition, and its silence is evidence of it giving the green light and its stance on the crimes committed against our people."
Luqo concluded her speech by highlighting the importance of enhancing the struggle and resistance "against the crimes committed by the Turkish occupation against peoples."