People of Raqqa protest the isolation of Abdullah Öcalan
People of Raqqa protested the isolation imposed on Kurdish Leader Abdullah Öcalan who has been held on Imrali Prison Island in Turkey since his capture and handover to Turkey as a result of an international conspiracy in 1999.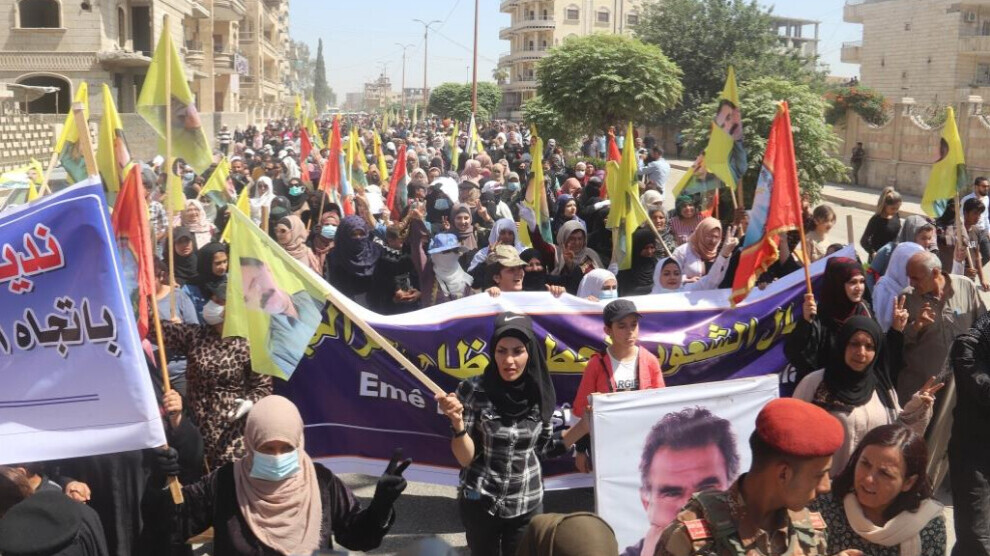 Kurdish leader Abdullah Öcalan has been held as a political hostage on the prison island of Imrali, most of the time under conditions of total isolation, since his arrest and deportation to Turkey as a result of an international conspiracy on 15 February 1999.
Kurds and their friends are going into action all around the world to demand the lifting of Abdullah Öcalan's incommunicado detention and the resumption of peace negotiations and conditions for the Kurdish leader in which he can live and work freely in order to contribute to the solution to the Kurdish question.
Residents of the northern Syrian city of Raqqa took to the streets on Thursday to protest the isolation of the Kurdish leader, displaying posters of Öcalan and banners reading "We condemn the international powers for their silence against Turkish attacks on North-East Syria."
The march was followed by a rally where Zelîxe Ebdî, co-chair of the Education and Training Committee of the Raqqa Civil Council, addressed the crowd and stated that they were walking on the path of Öcalan's philosophy of democratic modernity.
After the speech, Elî Salih, on behalf of the Raqqa Legislative Council, read out a press statement.
Salih highlighted that Öcalan has written the history of the struggle for humanity. He said that Öcalan put forward an international project to be the people's torch of freedom against oppression and despotism.
Salih emphasized that the main reason for the isolation of the Kurdish Leader is his presentation of the Project of democratic nation and fraternity of peoples as an alternative against the nation-state model.
Salih pointed out that the vicious policies pursued by the Turkish state against the people of North and East Syria would be defeated. He called on human rights organizations, international and democratic forces as well as defenders of peace to stand with Öcalan for his freedom.