PYD launches campaign against occupation in the Euphrates region
PYD calls on the peoples of North and East Syria, all political parties, civil society organizations and women and youth as the leading figures of society to join the campaign.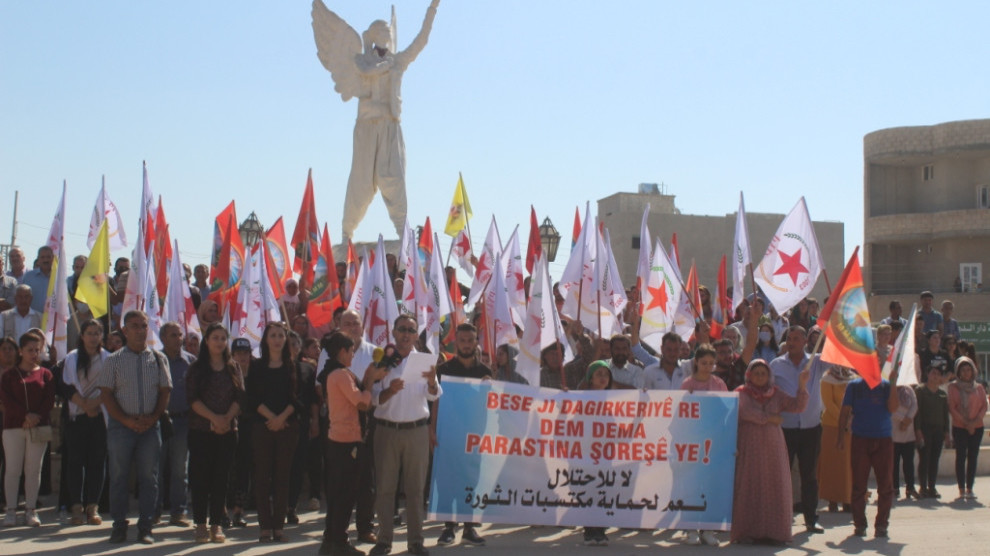 The Democratic Union Party (PYD) Council in the Euphrates region announced on Monday the start of a campaign under the slogan "No to Turkish occupation, yes to protect the achievements of the revolution". During the press briefing at the Free Women Square in Kobane, which was attended by dozens of party members, a statement in Kurdish was delivered by Ahmed Sheikho, co-president of the Euphrates Region Council.
The details of the campaign were listed as follows:
"In order for the liberation of all Syrian areas occupied by the Turkish state by various means, we are launching a new action campaign in the Euphrates region under the motto "No Turkish occupation, yes to protect the achievements of the revolution".
The objective of the campaign is to protect our land, our honor, our society, our society, our history, our free life and achievements of the revolution.
In the scope of the campaign, struggle will be given against occupation and enemies of Rojava and North-East Syria.
Our cultural and social forces will get organized and go into action.
The phase of passive resistance will be moved to the phase of common and joint resistance.
Our campaign bases on social, organizational, political and civil popular resistance.
Our campaign is a national and democratic one subject to free society.
This campaign is not temporary but will continue until victory by securing the rights of our people at all levels, in accordance with international treaties and conventions.
The hostile policy pursued by the Turkish state did not only place it in an isolated position at the internal level but also caused economic, social and political crises in all the areas it is present. This policy is sweeping the Turkish state towards collapse. Our campaign will expedite the collapse of the Turkish state's hostile policies.
The international sovereign and political forces are now after new geographical and political maps in the Middle East. This is a result of the Third World War. However, till this stage, no decision has been made in order for the Kurdish people to gain their legitimate rights in their ancestral lands. On this basis, with our campaign, we must focus on our objective basing on our self-power, political power and free will, and secure our legitimate rights.
Our campaign secures the freedom of our people. This campaign will also pave the way for everyone who supports the democratic nation project and the peoples' will for co-existence. This campaign must be the driving force of Kurdish national unity in Syria.
We call on the peoples of North and East Syria, all political parties, civil society organizations and women and youth as the leading figures of society to join the campaign. The achievement of the campaign's objective, as well as the freedom of Leader Öcalan and our people requires a struggle in the revolutionary spirit manifested in Kobanê, in the spirit of the fight given to avenge martyrs and in the spirit of the resistance ongoing in Heftanin."