PYD meets Arab intellectuals and opinion leaders
PYD Co-chair stated that their goal is to ensure the territorial integrity of Syria and establishment of a democratic system to prevail in Syria.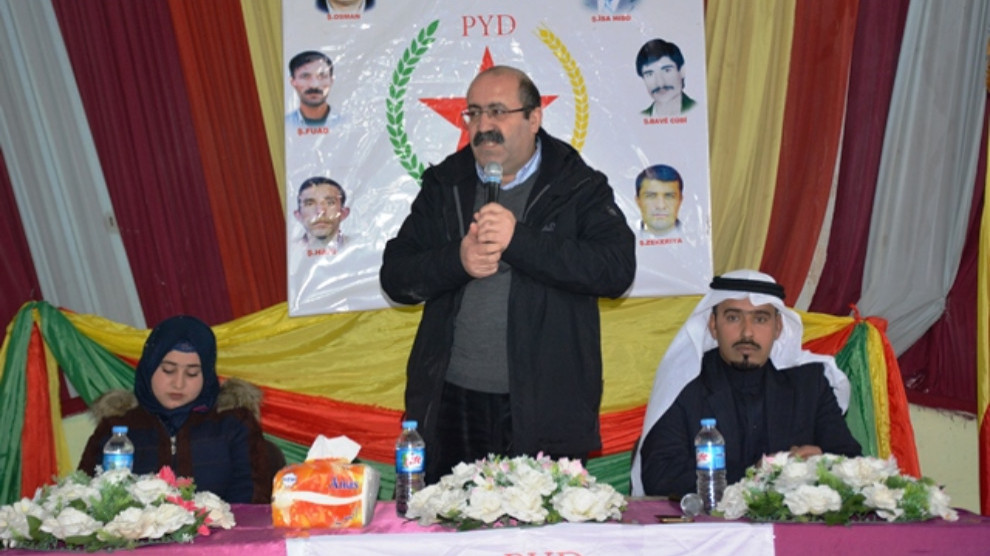 The Diplomacy Committee of the Democratic Union Party (PYD) met intellectuals and opinion leaders from the Arab community in Tirbespiyê district of Qamishlo.
Speaking at the meeting, PYD Co-chair Shahoz Hesen evaluated the latest political developments. In this scope, he mentioned the Turkish state's attacks on North and East Syria which -he said- targeted all the peoples living in the region.
Pointing to the dark history of the Ottoman Empire, Hesen said the following; "Turkey's historical experiences are based on invasion. The Ottoman invasion spread ignorance throughout the region for centuries. Erdoğan has supported ISIS and tried hard to keep it alive and standing. After the defeat of ISIS, he now tries to revive the Ottoman caliphate. The peoples living in the region have made major achievements which belong not only to a single party or circle but to thousands of martyrs."
Regarding the developments in the region, PYD Co-chair stated that; "The Syrian regime and Russia want to establish a dialogue with the Kurds but are unwilling to see the MSD (Syrian Democratic Council) and the Autonomous Administration as the representatives of peoples. We have rejected this proposal. We told both the Syrian regime and Russia that any intended dialogue should be held with the MSD and the Autonomous Administration. Our attitude has been very clear since the day the revolution of Rojava began. Our goal is to ensure the territorial integrity of Rojava and establishment of a democratic system to prevail in Syria."