'Qamishlo uprising is the source of the Rojava Revolution'
On 12 March 2004, an uprising broke out in Qamishlo, sowing the seeds of the Rojava's revolution. At least 34 people were killed in pogrom-like violence.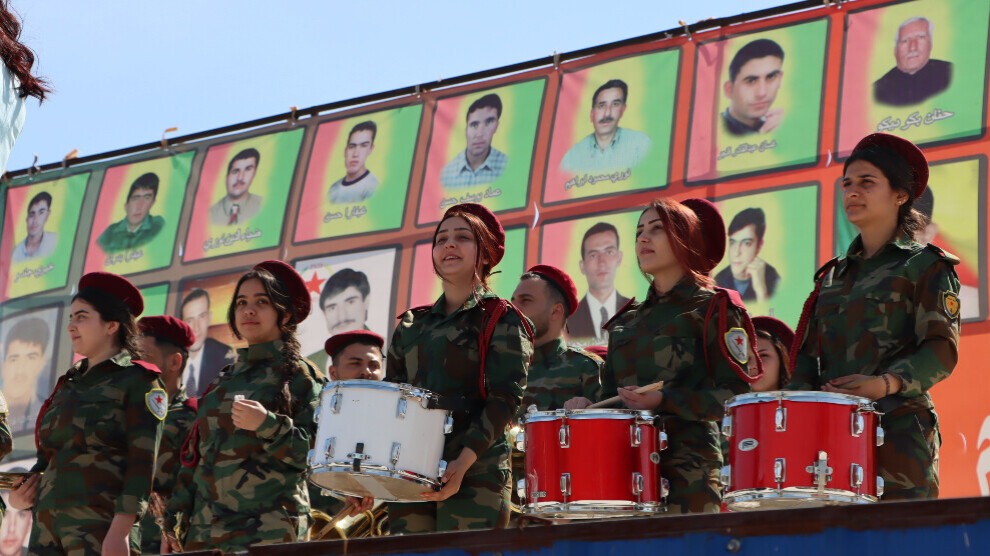 "With the spirit of the uprising of 12 March 2004, we will overcome the occupation and impose the will of the peoples" was the slogan of the ceremony for the victims of the Qamishlo uprising, which today marks its nineteenth anniversary. The Serhildan (Uprising) of Qamishlo is considered the first mass uprising in Rojava and came at a time when it was the first anniversary of the fall of Iraqi dictator Saddam Hussein and when joint cabinet meetings of Turkey and Syria were taking place.
The commemoration took place at the invitation of the Democratic Autonomous Administration of the Cizîrê region and the Civil Council of Deir ez-Zor in the stadium of the city of Qamishlo and began with a speech by Remziye Mihemed, the spokesperson of the umbrella organisation of the women's movement Kongra Star.
Describing the uprising as a precursor to the Rojava revolution, Remziye Mihemed stated that the Damascus government's attempt to instigate unrest and ethnic conflict among the constituents of the region resulted in the death of dozens of citizens, injury of hundreds and arrest of thousands, as well as the migration of a part of local people to abroad due to the repression and atrocities of the Baath regime.
"This dream of the Syrian regime turned into a nightmare and spread from Qamishlo to all Syrian territories, becoming a common issue of peoples. This eventually led to the emergence of a new process for the Kurdish people to stand against the Baath regime," she added.
Mihemed pointed out that: "The uprising of 2004 is the source of the 'Jin, Jiyan, Azadî' [Woman, Life, Freedom] revolution in Rojava and Rojhilat that inspires and gives strength to all peoples of the world today.