Raqqa tribes reiterate their support to SDF
Raqqa tribes issued a statement regarding the assassinations and the disturbance in the region and reaffirmed that they stand by the SDF against conspiracies.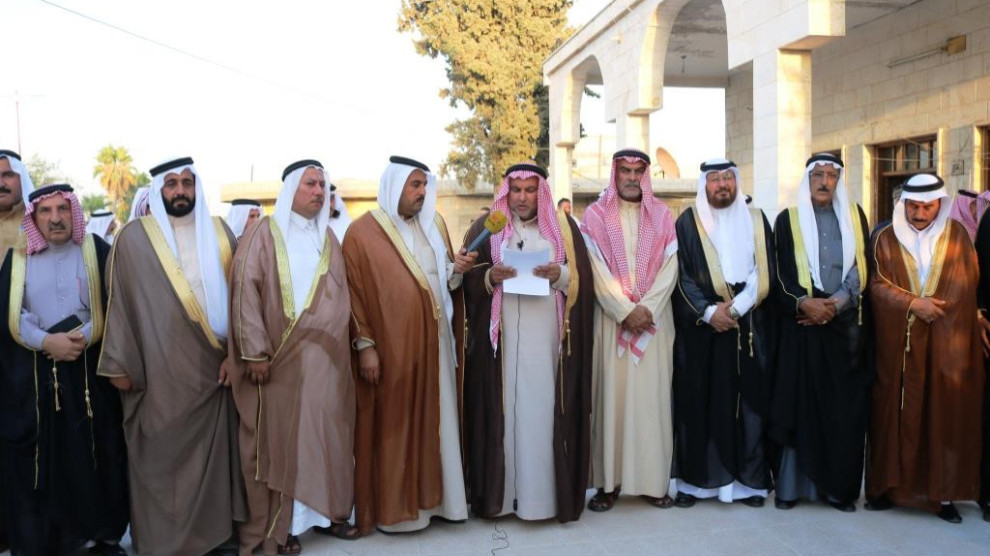 Tribes in Raqqa and Tabqa made a statement at Sheikh Hiwedi Shilash El Hiwedi guesthouse.
The statement read by Hamid Ferec, the sheikh of the al Welde tribe, said: "Crises in the world have caused the Middle East and especially Syria to be the target of occupation. Syria has turned into a battle field for international powers. The peoples however, made a revolution to establish a powerful Syria. The peoples of Northern and Eastern Syria live together, but too many wanted the revolution to be squeezed between regional powers and armed groups.
This situation in Syria caused terror to spread. Many states have deepened the crisis by supporting terrorism. Recently, Syria has entered a dark tunnel. There are attempts from inside and outside."
The statement added: "The SDF, which was established despite all difficulties, claim to liberate Syria completely. SDF, trying to eliminate terrorism in Syria, ensured the establishment of the Democratic Nation project in Northern and Eastern Syria.
All peoples in Northern and Eastern Syria have backed this strategy. Young people from all over the region joined the SDF ranks. Arab tribes also played an important role in the new system. The SDF, together with the international coalition, have liberated the whole of Northern and Eastern Syria."
A success which, the statement added, "was not liked by some groups, both inside and outside. Conspiracies began to be organized to destroy this success. Different forces put in motion their plans to destroy the Democratic Nation project."
The statement continued: "In order to thwart this project, secret cells were created, plans made for them and finance ensured. These cells targeted prominent figures of society, especially the sheikhs of the tribes in Northern and Eastern Syria. They began with attacks against Sheikh Bashir Al Faisal Al Hivedi, Omer Elus, Ebed El Helef Al Hasan, Hevrin Xelef and continued with Sheikh Ibrahim Halil El Hefel and Metşer Hemud El Hefel. The aim was to break the social solidarity created for a dignified living in a democratic, free and decentralized Syria. But the spirit of brotherhood among the peoples of the region did not allow these forces to achieve these goals.
Such attacks increase our insistence on resistance and strengthen our will against plans and conspiracies coming from both inside and outside. Because the Syrian society is now strong enough to solve its problems without outside forces."
The tribes then reiterated their support to the Syrian Democratic Forces, saying: "We call on tribal youth to join SDF in order to strengthen our union and protect our achievements. We emphasize that stopping these attacks is our primary responsibility. Those who want to disrupt the peace of the region must be held accountable and their plans must be exposed.
As Raqqa tribes and tribes, we extend our condolences to the Igêdat tribe and stand by them."