Relatives visit cemeteries of martyrs on first day of Eid
As is customary on the day of the Feast of Sacrifice, people in northern and eastern Syria gather at the cemeteries of martyrs, distribute sweets and commemorate the dead.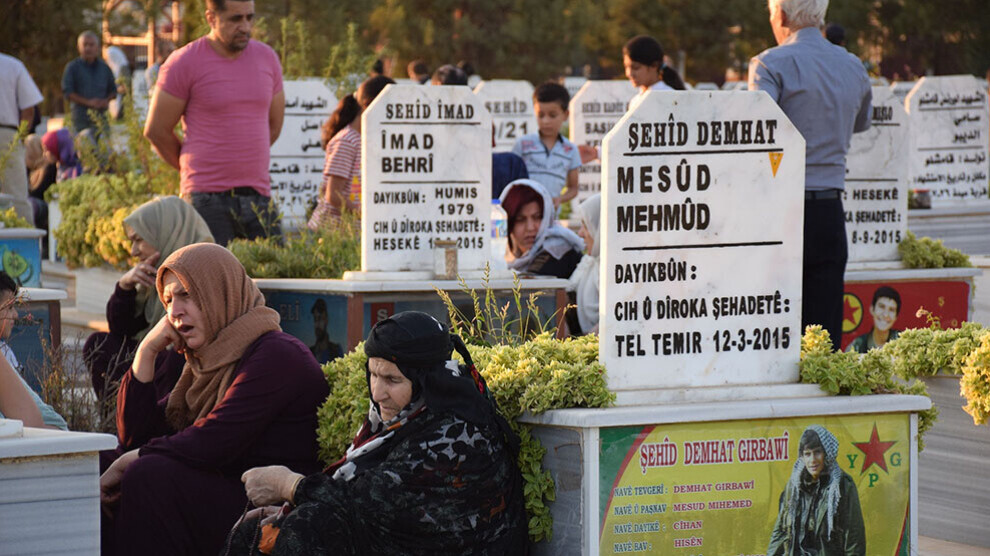 Even before sunrise, people in northern and eastern Syria flock to the cemeteries of martyrs and commemorate them. The defense of the Rojava revolution, which has been going on for nine years, has turned initially small clusters of graves into huge cemeteries where the at least 12,000 martyrs of the fight to defend the revolution and destroy ISIS are buried. Residents in the self-governing districts of Sheikh Maqsoud (Şêxmeqsûd) and Ashrafiyah (Eşrefiyê) in Aleppo also visited the cemeteries.
The co-chairwoman of the Democratic Unity Party (PYD), Ayşe Hiso, gave a speech there and said in reference to the destruction of martyrs' cemetery by the Turkish occupation forces in Afrin: "The crimes in Afrin show that the Turkish state is afraid of the resistant Kurdish people and even of their martyrs. The Turkish state claims that the YPG committed mass murders against the people of Afrin. However, the people of Afrin have failed the Turkish state's policy and have proven to the world with documents and testimonies that the alleged mass grave is a cemetery where people who died resisting the Turkish invasion are buried." 
After Hiso's speech, the visitors lit candles on the graves of the Afrin and chanted "Şehîd Namirin!" - "Martyrs are immortal". Similar ceremonies also took place in Manbij, Qamişlo and Shehba, as in many other places in northern and eastern Syria.