SDF flag planted in Baghouz to mark the victory over ISIS
Syrian Democratic Forces have ended the military presence of ISIS in North and East Syria.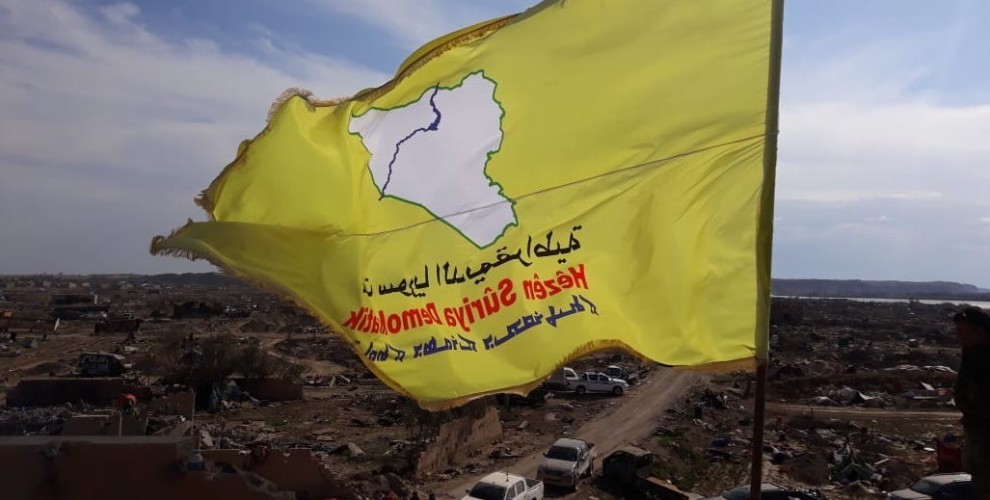 As part of the final operation to end terrorism, Syrian Democratic Forces (SDF) have liberated Baghouz, the last ISIS occupied area in Syria, ending the military presence of the terrorist organization in the country.
After announcing on March 21 that the Baghouz area was cleared of ISIS while combing and search operations were continuing, SDF planted its flag as a sign of victory over ISIS during a ceremony held on Saturday.
A number of SDF commanders, including the campaign commander Çiya Fırat, as well as SDF Spokesperson and fighters attended the ceremony as the SDF flag was planted in Baghouz, the last point at the Iraqi-Syria border.
In a short speech during the ceremony, SDF Commander Çiya Fırat celebrated the historic victory over ISIS for the fighters and the people of the region, saying; "Today we have completed our campaign by liberating Baghouz, the last area left in the hands of ISIS. We dedicate this victory to the Kurdish, Arab and Syriac peoples and all the peoples in the region and the world. We declare the territorial defeat of ISIS and finalization of our campaign. A detailed statement will be made by the SDF General Command in the following hours."
The final operation against Baghouz was launched on February 9 after the liberation of al-Sousse area from ISIS.
With the defeat of ISIS in Baghouz, all the territories occupied by the terrorist organization have been taken back.
ISIS was able to occupy Mosul very easily without engaging in any battle in June 2014 before declaring its "Caliphate" and starting to make advances in a large territory extending from Iraq to Syria committing brutal crimes and savage acts.
As part the occupation, the terrorist organization first turned to Maxmur and Shengal. ISIS carried out a genocidal aggression against Shengal, the land of ancient Kurdish Yazidi community, on 3 August 2014, which resulted in thousands of people being massacred, kidnapped and reduced to slavery in the hands of the brutal gangs.
The historic resistance in Kobane put an end to the advance of ISIS. The terrorist organization first went into a decline with Kobanê victory and has suffered a total elimination on March 21, Newroz Day, in 2019.