SDF martyrs Ehmed Eswed El Hemîd and Ramî El Heco laid to rest in Shedade
SDF martyrs Ehmed Eswed El Hemîd and Ramî El Heco were laid to rest at a ceremony held at Shedade Cemetery.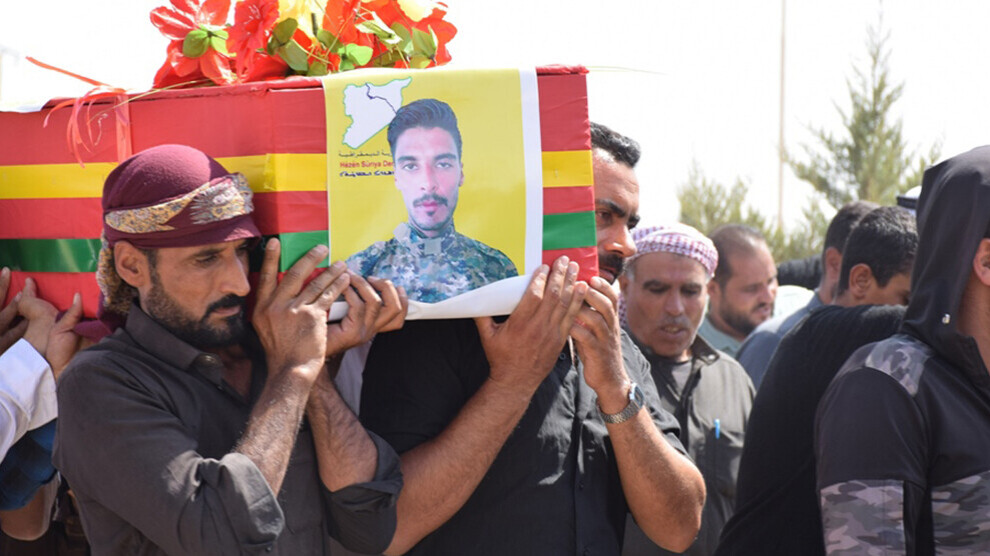 SDF fighter Rami El-Heco (Girnas Hesekê) fell as a martyr in the attack carried out by the invading Turkish state on the village of Esediyê in Zirgan on 30 July 2022, and Ehmed El Heneş (Kawa), who fell as a martyr on 28 July 2022 in the Zîban region of Deir ez-Zor. They were laid to rest in Shedade Cemetery.
The residents of the neighbourhood brought the martyrs from the Martyrs' Families Assembly building in the city of Hesekê to Shedade Cemetery in a convoy of vehicles decorated with the pictures of the martyrs and SDF flags.
After a minute's silence at the cemetery, a military ceremony was held for the SDF fighters.
Speaking on behalf of the Martyrs' Families Council, member Iman El-Ferec conveyed his condolences to the families of the martyrs and promised to follow their path until their dreams come true.
Ewde El-Hisên, Commander of the Shedade Military Council, said: "We are fighting all kinds of terrorism, from the global terror of ISIS and its cells to the terror of the invading Turkish state. But they cannot succeed."
At the end of the ceremony, the martyrdom documents were read and handed over to the families.