SDF publishes identities of 9 members who fell as martyrs in helicopter crash
Last Wednesday, nine members of the YAT anti-terrorist units died in a helicopter crash in South Kurdistan. The Syrian Democratic Forces have released their full identities and paid tribute to their struggle.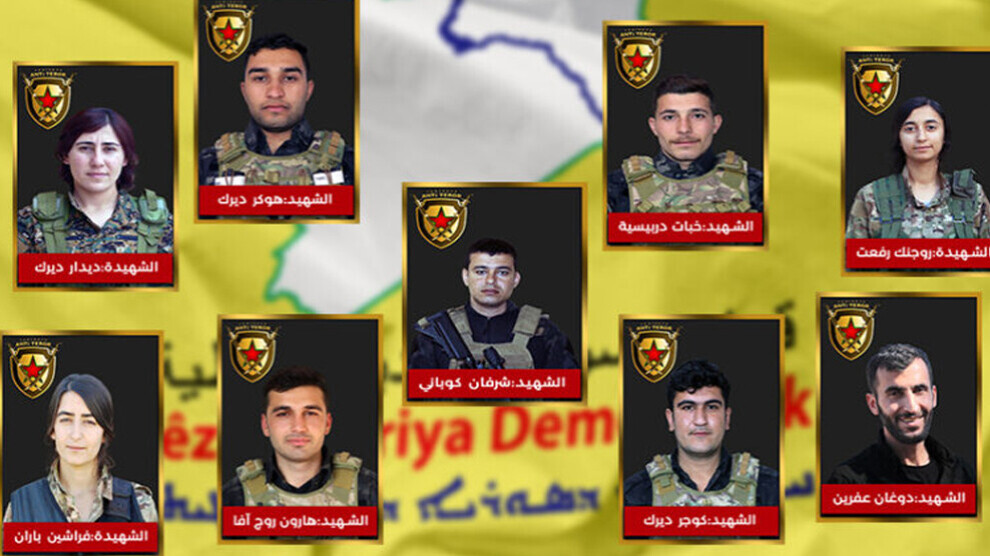 The Syrian Democratic Forces (SDF) have published the names of their members who died in the helicopter crash in southern Kurdistan last Wednesday. The nine fighters, who belonged to the anti-terrorist units YAT (Yekîneyên Anti Terorê), were on their way to Sulaymaniyah when they died in an accident. The SDF said bad weather was the cause of the accident.
In a statement, the SDF said:
"During their ongoing struggle to protect all the communities and people in north and eastern Syria, our forces, the Syrian Democratic Forces, have sacrificed hundreds of brave martyrs. Today, another convoy of martyrs is moving towards the march of eternity, consisting of nine heroes who walked the path of freedom without hesitation, always adhering to the values and principles that demand sacrifice and selflessness.
On the evening of March 15, 2023, during the movement of an anti-terrorism unit YAT en route to the city of Sulaymaniyah, two helicopters carrying them crashed due to bad weather conditions, resulting in the martyrdom of nine of our fighters led by the commander of the anti-terrorism forces, Cherfan Kobani.
Our comrades, including the commander of the anti-terrorism units Shervan Judy, Dedar Dirk, Farashin Baran, Harun Rojava, Dughan Afrin, Hoger Dirk, Kochar Dirk, Rojink Rafa'at, and Khabat Derbasiyah, dedicated their lives to the cause of freedom and security for their people. They were exemplary in their courage and bravery, fighting in all stages of the struggle in north and eastern Syria, and weaving threads of victory in many battles against terrorism and occupation.
All our martyred comrades played a critical role in the military campaigns against the terrorist organization "ISIS". Their exceptional skills and abilities led them to join the counter-terrorism units, where they continued to make significant contributions. They played major roles in leading operations against the leaders and emirs of "ISIS", and collaborated with international coalition forces to achieve our common goal of eliminating the terrorist threat.
They left a lasting impact on the various campaigns launched by the Syrian Democratic Forces, particularly the Counter-Terrorism Units (YAT). They were actively involved in the Al-Hol campaign that aimed at eradicating the sleeper cells of the terrorist organization "ISIS". Notably, the female comrades who exhibited a strong spirit of resistance and responsibility during the campaign were instrumental in its success."
The identity details of the martyrs are as follows:
Codename: Şervan Kobanê
Name and surname: Ebdo Ehmed Ebdi,
Date of participation: Kobanê 2011
Martyrdom place and date: Bashure Kurdistan-15 March 2023
Codename: Feraşîn Baran
Name and surname: Nejbîr Mehmud Hemdo
Date of participation: Dêrik-2015
Martyrdom place and date: Bashure Kurdistan-15 March 2023
Codename: Dîdar Dêrik
Name and surname: Hemdiya Seydo Seydo
Date of participation: Afrin-2014
Martyrdom place and date: Bashure Kurdistan-15 March 2023
Codename: Rojeng Rifet
Name and surname: Berfîn Bîlal Rifet
Date of participation: Shehba-2020
Martyrdom place and date: Bashure Kurdistan-15 March 2023
Codename: Xebat Dirbesiyê
Name and surname: Rênad Îzedîn Elî
Join date: Qesrik-2017
Martyrdom place and date: Bashure Kurdistan-15 March 2023
Codename: Dogan Afrin
Name and surname: Hadi Hemdûş Zahir
Date of accession: Kobanê 2014
Martyrdom place and date: Bashure Kurdistan-15 March 2023
Codename: Harun Rojava
Name and surname: Mecîd Silêman Mihemed
Date of participation: Qamishlo-2014
Martyrdom place and date: Bashure Kurdistan-15 March 2023
Codename: Hogir Derik
Name and surname: Elaa Ednan Hemûd
Date of participation: Dêrik-2017
Martyrdom place and date: Bashure Kurdistan-15 March 2023
Codename: Koçer Derik
Name and surname: Diwêş Ehmed Omer
Date of participation: Rimêlan-2017
Martyrdom place and date: Bashure Kurdistan-15 March 2023."