Syrian Democratic Council Derar calls on Government of Damascus to dialogue table
Syrian Democratic Council co-chair, Riyadh Derar, called on the Government of Damascus to the dialogue table.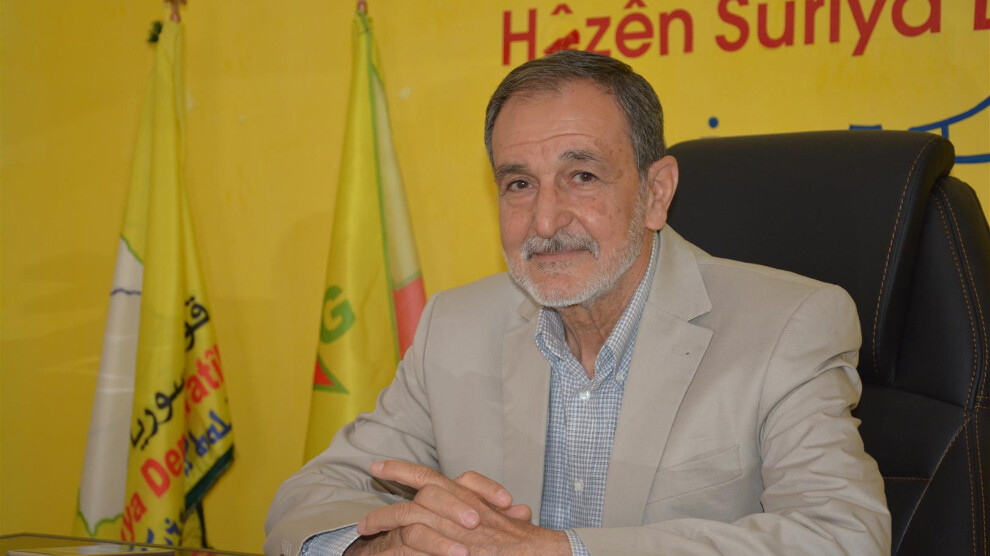 The Syrian Democratic Council (MSD) co-chair Riyad Derar asked people to return to the path of political settlement and avoid harsh remarks, and described Damascus regime officials' statements as a distortion of reality.
Riyadh Derar spoke to ANHA about the statements made by Damascus government officials.
On Thursday, Damascus Foreign Minister Feysel al-Miqdad accused the Syrian Democratic Forces (SDF) of discrimination.
Riyadh Derar said: "Terrorism can be fought in a variety of ways. The only option and the only struggle is for all Syrians to adopt a political settlement through discussion. It's hardly the aggressive language we're used to hear from regime officials. The government is well aware of what would have occurred if Iran and Russia were not involved. Dialogue is the only way to find a solution. Only then we will be able to fight terrorism."
Riyadh Derar noted that regional and international states in Syria are only there for their own interests, the state's fragility, and the deteriorating situation in Syria.
He said: "In the current circumstances, their only goal is to create chaos. The political solution path is clear, and it is the wisest thing to choose it."
Derar added: "The US is present in the region to combat ISIS. It will leave Syria when its mandate ends. This is something we guarantee. Damascus government representatives should work with the people to get the invaders out of Syria."
Derar continued: "When Damascus' government retreated from Raqqa, the 'caliphate's' capital, a huge struggle against terrorists began. This demonstrates that the true fight against terrorism is being undertaken in Northern and Eastern Syria. The region's youth are leading the fight against ISIS terrorism. The YPG and YPJ were formed first, followed by the SDF. These forces are made up of the region's young. They are not terrorists, and no one can accuse them of it."