Syrian Revolutionary Youth Movement in Shehba march in support of the guerrillas
Members of the Syrian Revolutionary Youth Movement in Shehba marched in support to the guerrilla resisting the Turkish state.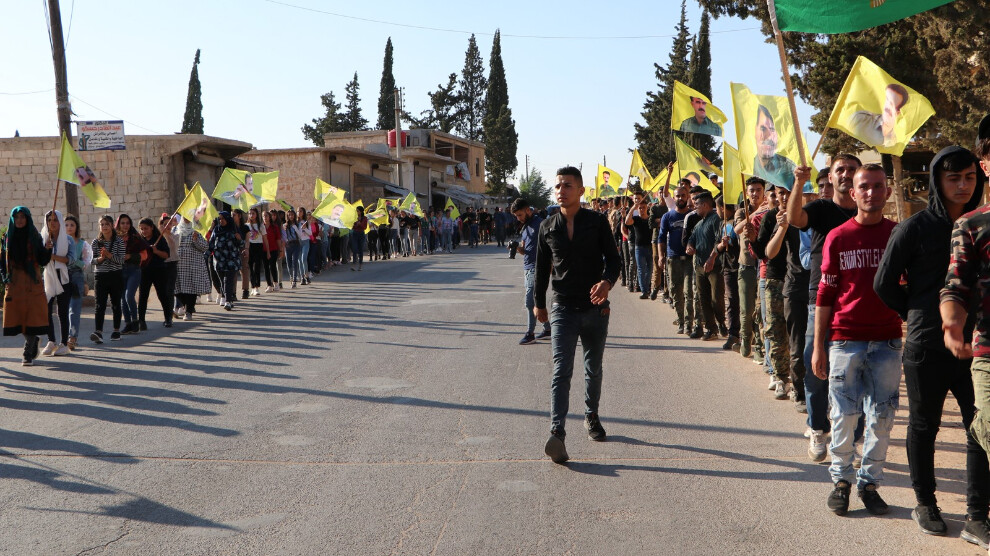 The Syrian Revolutionary Youth Movement carried out a march in support of the guerrilla resisting in the Medya Defense Areas.
Hundreds of young people gathered in the village of Til Qerah in Ehdas, province of Shehba.
The action turned into a rally in front of the Martyrs' Families Assembly building, and a minute's silence was held in memory of all the martyrs.
Addressing the crowd on behalf of the Revolutionary Youth Movement, Ehmed Hesen emphasized that the Turkish state's attacks against Medya Defense Areas were frustrated by the guerrillas.
Ehmed Hesen added that the Turkish state actually targeted not just the guerrillas but the entire Kurdish people and especially the youth. "Thanks to Leader Öcalan's ideas and philosophy, we have destroyed the fascism of the Turkish state. We will never bow to the invaders."
Drawing attention to the crimes committed by the Turkish state in Afrin, Ehmed Hesen said that they will continue to fight until Afrin is liberated.