Tribes in Manbij: We stand beside our defense forces
The tribes in Manbij said that Turkey is trying to re-activate ISIS and said they would stand beside the forces defending the region.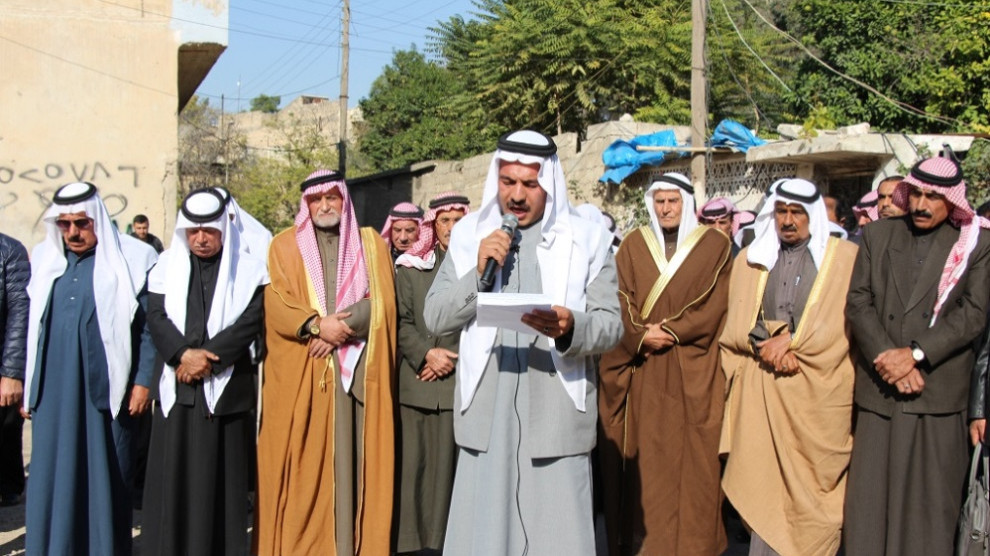 Opinion leaders of the Manbij tribes held meetings with Bab Military Council and Manbij Military Council officials and representatives of civil society organizations in the city regarding the developments in the region.
Dozens of opinion leaders joined the meeting and talked about the invasion attacks carried out by the Turkish state in the city.
Co-chair of Social Services Farûq Al-Maşî on behalf of the Autonomous Administration, co-chair of the Legislative Assembly on behalf of Manbij Civil Administration Mihemed Xêr Ibo and  Commander Îbrahîm El-Binawî on behalf of Manbij Military Assembly spoke about the developments.
All speakers stressed that success could only be achieved with unity as it was the case in the struggle against ISIS.
After the meeting, the tribes held a joint press conference in the city. Ibrahim Al-Shilash read the joint statement prepared by the tribes. The peoples of North and East Syria were reminded that they have to resist the attacks against the occupation in unity. "As tribes in Manbij, we state that we are with the Manbij Military Council and Homeland Security Forces that protect the region and we will offer all kinds of support."
The tribes leader reminded that the Turkish state is trying to reactivate ISIS in Syria and added that Turkey wants to obstruct the path solution to the crisis.
The statement called on the UN to stop the invasion attacks which are targeting civilians.