Turkish soldiers open fire on fire brigade in Rojava
As part of its occupation strategy, Turkey is deliberately setting fire to cultivated areas in the autonomous region of North-East Syria. In Kobanê and Til Temir, firefighting teams have been fired upon.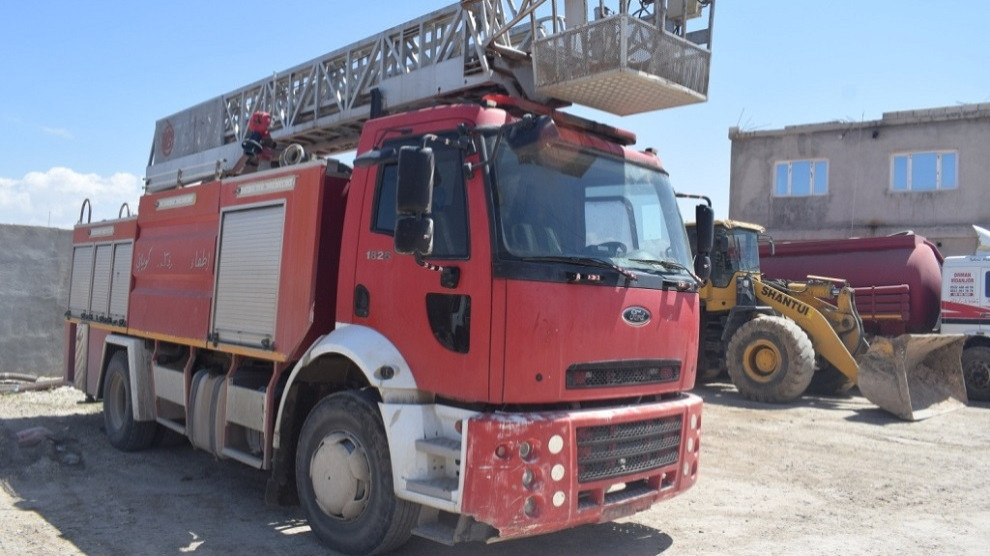 The Turkish state continues to set fire to agricultural land in northern Syria. Especially in border areas, fire brigades and residents are prevented from extinguishing the fire by attacks.
In the village of Serzorî near Kobanê, a field has been set on fire by Turkish soldiers. When the fire brigade approached, they were targeted by fire. The fire-fighting crew had to retreat immediately, only by great luck nobody was hurt. The fire spread over a large area and could later be extinguished by local residents.
Similar scenes also occurred in the surroundings of Til Temir. There the occupying troops set fire to fields near the villages of Rîhaniyê and Qasimiyê in the northwest of Til Temir and in the western village of Um El Kêf. As the fire-fighting troops are attacked, the fire spreads further.
The targeted arson in the areas in northern Syria is part of the Turkish occupation strategy. The people in the autonomous region are wanted to be starved, demoralised and driven out. In Sherawa district of Afrin, a 22-year-old man was fatally injured on Friday during fire-fighting operations. His death is one of countless other war crimes committed by the Turkish state and its jihadist auxiliary troops against the civilian population in northern and eastern Syria, which have been de facto approved by the international community.
On Tuesday, a 30-year-old man from the village of Big Ereb Hesen near the northern Syrian town of Manbij was seriously injured in an artillery attack by occupying forces. Two days earlier, a 50-year-old family man was shot dead by Turkish border guards in the town of Çilaxa (al-Jawadiyah) near Dêrik (al-Malikiya). On Sunday a civilian was shot dead at a checkpoint of the occupation forces near Serêkaniyê (Ras al-Ain). Several other people were injured. The group was on its way back from Raqqa to Serêkaniyê when Turkish-backed jihadists opened fire on them.