Urgent appeal from the women's organisations in Syria
Women's organisations in Syria have made an urgent appeal for Turkish-occupied Afrin where war crimes have become part of daily life since the occupation of the city in March 2018.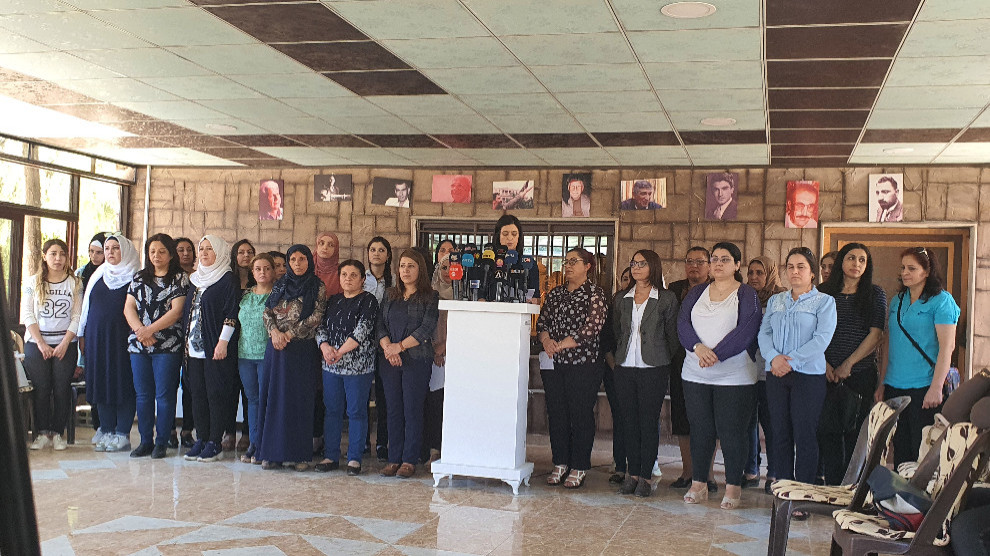 Representatives of the women's organisations operating in Syria joined a press conference calling for urgent action against the inhuman acts perpetrated by the Turkish army and allied mercenaries in the areas they have occupied in North-East Syria.
The press conference in Qamishlo was attended by representatives of Kongra Star Rojava, Syrian Women's Council, Syriac Women's Union, Women's Council of Democratic Union Party (PYD), Women's Coordination of the Autonomous Administration of Jazeera region, Women's Office of the Syrian Democratic Council (SDC), Women's Office in the Arab National Authority, Women's office of the Future Syria Party, Women's Council in North and East Syria, SARA organisation against violence against women.
The text of the statement, read in Arabic, Kurdish and Syriac languages, includes the following:
"Since the beginning of the Turkish occupation of the city of Afrin with the help of its mercenaries, its violations and practices – which fall under the category of war crimes in light of a general international silence – have continued despite the resistance of the people of Afrin against the forced displacement and the systematic demographic change that the Turkish occupation and its mercenaries are seeking.
The people of Afrin are exposed on a daily basis to the most brutal inhuman injuries and systematic violence from which women have suffered greatly as a result of the continued indiscriminate shelling of the al-Shahba areas, abduction, rape, forced marriage of underage girls and the killing and torture of women in detention camps within the city of Afrin and its occupied villages in order to completely empty the region from its population.
Recent events, following clashes between mercenary groups in the region, have exposed the crimes and abuses taking place in the prisons. Where there were dozens of abducted women, it was found that most of them were local Kurdish women who were naked and physically tortured and sexually abused. This is a gross violation far removed from humanitarian principles and international conventions.
Despite all the practices to which women are subjected and which aim to break the conscious and organised will of women, their insistence on resistance and their struggle to build a free and democratic society have made them a symbol that should be given international attention.
We, as Syrian women, call on the international community, all human rights organisations and women's movements to break their silence and play their part in ending the Turkish occupation, to set up a United Nations committee of inquiry and relevant human rights organisations in order to arrest the perpetrators of these crimes, which are war crimes, and to provide the necessary support to protect women and support their resistance."
RELATED NEWS: