Women in Shehba protest the isolation of Abdullah Öcalan
The protest against the isolation of Kurdish People's Leader Abdullah Öcalan promoted by Kongreya Star Afrin Coordination in Shehba reaches its third and final day today.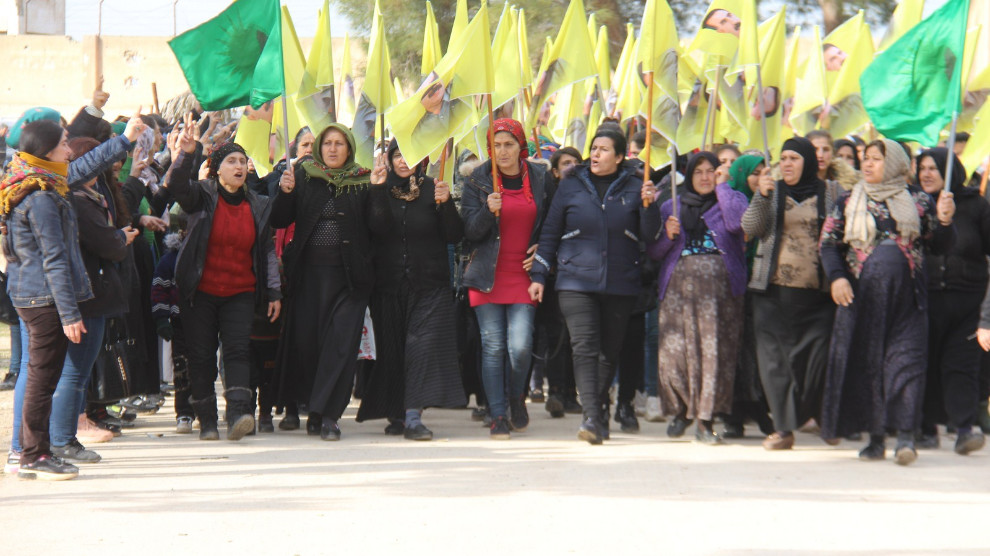 A protest tent was set up and decorated with banners condemning isolation and demanding its end.
The action was joined by Kongreya Star and civil society organizations members as well as refugees living in the Serdem Camp and district of Ehrez.
Zezan Hac Xelîl, Kongreya Star Ehrez district executive condemned isolation and the "Imrali system" as being "a form of repression not just against Öcalan but against the entire Kurdish people."
Xezal Elo, a member of the Free Women's Union in the district of Ehrez said that the conspiracy against humanity acually began 21 years ago, i.e. with the international conspiracy which led to the capture of Öcalan.
Erhez District Kongreya Star executive, Fatma Remedan, in her speech said that the people will continue their resistance until isolation is lifted.
One of the participant, Xedîce Xelîl, told ANHA: "We will not stop fighting until our leadership is physically free." 
Elif Umer added: "Leader Abdullah Öcalan chose the path of peace and democracy. We are following his steps. They wanted to slaughter peoples with conspiracies. Our revolution will succeed. We will resist until we physically liberate our leadership and liberate our land from the occupying Turkish state."
Videos of Abdullah Öcalan were shown. Today the action will come to an end.