YPG fighter wounded in battle for Serêkaniyê: "I was saved by YPJ fighters"
YPG fighter Devrim Azad was shot two years ago during the battle for Serêkaniyê. When the Islamist mercenaries of the Erdogan regime were only ten meters away, he was rescued by a female YPJ fighter.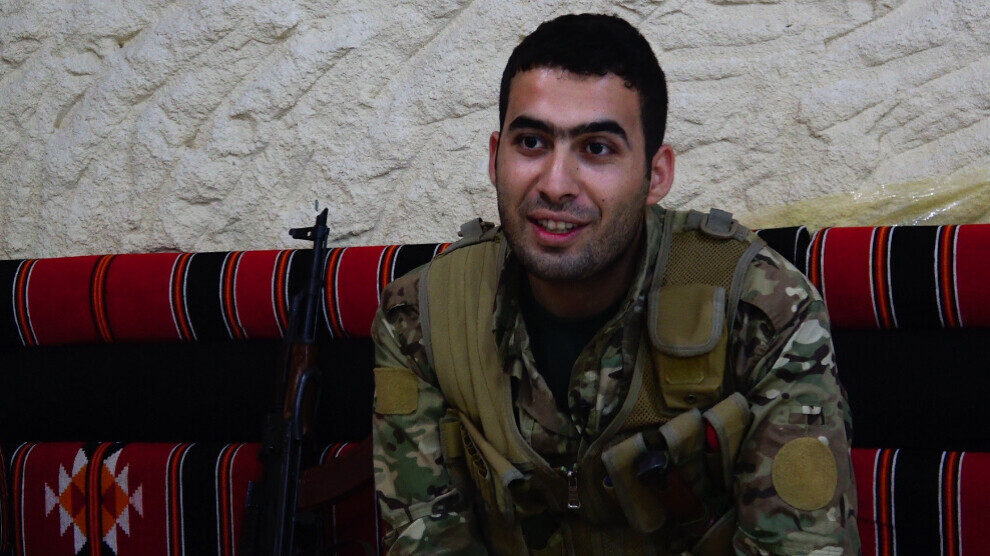 The fighters of the YPJ, YPG and SDF put up an unparalleled resistance with the courage of their convictions against the second largest NATO army and its mercenaries recruited from the remnants of ISIS and other Islamist groups during the invasion of northern Syria launched by the Turkish state two years ago. YPG fighter Devrim Azad was involved in this and told ANF what he experienced at the time.
When the Turkish occupation attacks on the region began, we made our way to Serêkaniyê (Ras al-Ain) and Girê Spî (Tal Abyad). On October 18, 2019, I was at the front line in the industrial area of Serêkaniyê. Heavy attacks had already taken place and there were casualties. We were down to a few and called for reinforcements, which arrived. Because the area was under intense attack, we had to make a tactical withdrawal. After the reinforcements arrived, we set out again to drive the jihadists out of the area. In the course of the fighting, we repeatedly had to abandon places in the meantime and return to them later. We advanced through the neighborhoods and Islamists were hiding in some houses. We were attacked again and again, but we continued our advance with the morale we had received from our friends who had arrived to reinforce us. Our morale was unbroken despite the attacks.
The Turkish army observed our advance and attacked from the Til Xelef front. A skirmish ensued, there was only a distance of no more than thirty meters between us. We were heavily shelled and I was wounded. I was lying wounded on the ground and the Turkish mercenaries were only ten meters away. Just at that moment, I saw that a female companion from my battalion was shooting at the Islamists. She grabbed me by the collar and pulled me away.
At that time I was a bit fatter, I must have weighed 85 or 90 kilos. I never thought that the woman friend could carry me. However, at that moment, a special spirit prevailed. I was semi-conscious and only realized that the she had taken me on her back and was trying to take me away from the area. I couldn't believe it, but it was actually happening. Somehow we made it to a side street. Another female friend and a male friend were coming towards us. At that moment, more shots were fired at us and the friend who was carrying me was also hit.
The others wanted to get us out of the combat area. We were moving toward a vehicle. Then more bullets hit my back. I fell to the ground. The others sat me down on the sidewalk. I slowly lost consciousness. Shooting was everywhere, it was fierce fighting. Eventually, I was evacuated from the area and taken to the hospital. That is why I am alive today.
What I am trying to tell here is the role and mission of women in war. I have personally witnessed the strength of will that women are capable of in war. When I returned to my battalion, I was asked who saved me. I told everyone that it was the female friends who saved me.
I was wounded three times in battle and rescued twice by female friends. If it hadn't been for the sacrifice of my female comrades, I probably wouldn't be alive today. I owe my life to Rêber Apo [Abdullah Öcalan], the martyrs and my companions who saved me. Because I was saved, I had the opportunity to continue to confront this cruel enemy. Whatever I say about my fellow fighters and the YPJ remains insufficient. All I can do is to keep the memory of my companions alive at every moment.