Ezidis' Union calls for the protection of Ezidis from Afrin
The Ezidis' Union of Afrin in Shehba refugee camp confirmed crimes carried out by Turkey and DAESH (ISIS) in Afrin.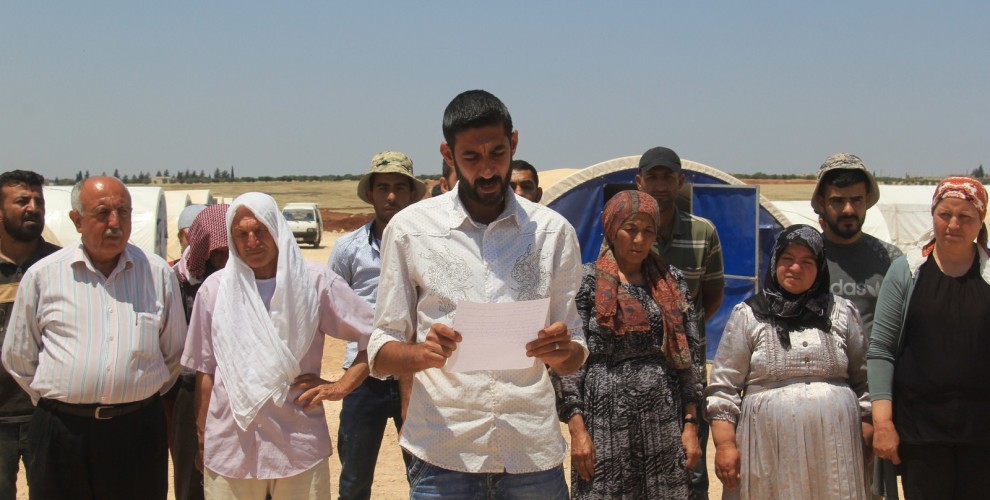 The Ezidis' Union released a press statement on Thursday on the attacks of the occupied Turkish state and mercenaries against the Ezidis in Afrin.​​
Presenting the statement in the Serdem refugee Camp in Shehba, Esed Marok, from the Ezidis' Union underlined that for hundreds of years, the Ezidis were subjected to genocidal attacks especially during the Ottoman period, but despite this preserved their faith and continued to resist against the attacks.
The statement said that the establishment of Democratic Autonomous Administrations regions secured the recognition of Ezidis' belief and identity. Marok also added that in many villages schools were opened so that children could be educated and learn about their own identity.
"When Turkey's invasion of Afrin operation began, the groups of mercenaries threatened to kill and behead the Ezidis. These mercenaries made it clear that what they did in Shengal would continue in Afrin. The mercenaries destroyed the cemeteries and sacred places of the Ezidis in Afrin. The Ezidis were forced to emigrate from the reign and many were forced to become Muslims.
The mercenaries - said the statement - also forced Ezidi women to wear clothes imposed on women by radical Islam, and they replaced the culture of co-existence and brotherhood with the rules of radical Islam.
The Ezidis' Union added that the occupying Turkish army and mercenaries were kidnapping Ezidi youths in Afrin and subjecting people to torture of all kinds. It also confirmed that mosques are being built in Ezidi villages.
At the end of the statement the Ezidis' Union called on the international community and human rights organisations to protect the Ezidi community from genocide and the hatred of the jihadist groups and the Turkish state.