Hunger strike for Öcalan in Efrîn
Kongreya Star has launched a hunger strike in the Efrîn region with the demand to receive information on the health of Kurdish People's Leader Abdullah Öcalan.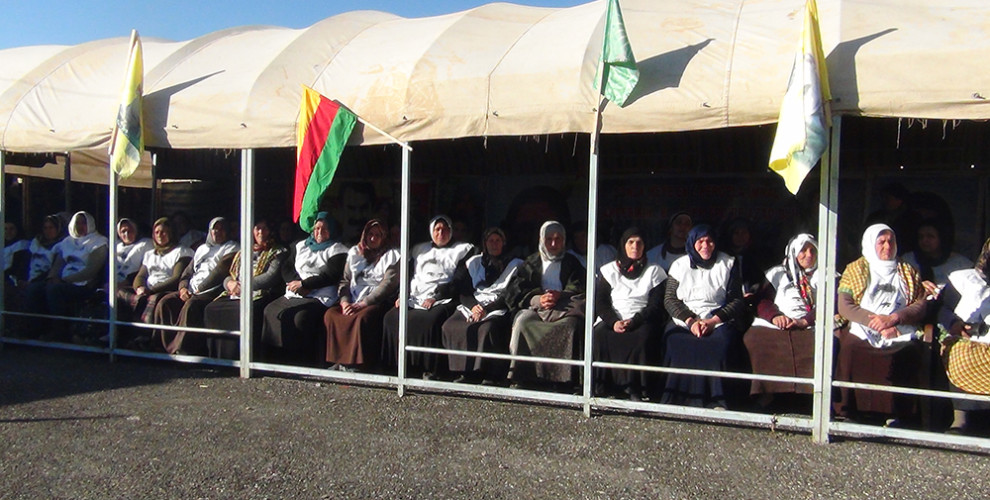 Kongreya Star put up a tent for a hunger strike in the Newroz Square of Efrîn's Raco district with the slogan, "We will tear down the Imrali system, we will live together with our Leader". Flags of Kongreya Star and posters of Kurdish People's Leader Abdullah Öcalan and martyrs of freedom were put up inside the tent.
Democratic Society Movement, Democratic Unity Party, Democratic Society Education Committee representatives, Asayish members and dozens of locals have joined the demonstration. Participants wore white aprons that read, "Resistance is life".
"THEY CAN'T FULFILL THEIR GOALS"
Kongreya Star Diplomatic Relations Committee Administrator Fatima Lekto gave a speech and stated that the Kurdish people are going through a very delicate process, and added: "Leader Apo has been in prison for 19 years. The enemy wants to break and smash the will of the Kurdish people, and we say they will never achieve their goals."
"THOSE WHO IGNORE KURDS ARE DREAMING"
Zelûx Qasim spoke in the name of the Martyrs' Families Assembly and condemned the isolation imposed upon Öcalan. Qasim said Turkey has trampled international law with the isolation they impose upon Öcalan.
Asayish Forces member Mihemed Yusif said the states who wish to ignore the existence of Kurds are dreaming, and pointed out that the will of the Kurdish people is stronger than any plan the states may make.
The hunger strike started after the speeches and will continue tomorrow.