People of Afrin settle in Shehba with promises of revenge
The inhabitants of Efrin, who were evacuated to Shehba because of the Turkish occupation of their homeland, try to start a new life in mined areas. But they swear revenge.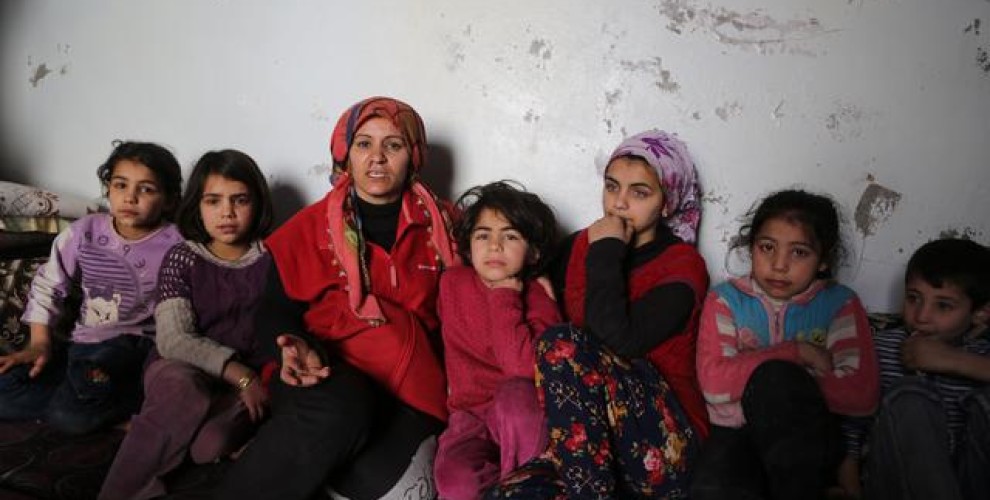 Since the outbreak of the Syrian civil war in 2012, Efrîn (Afrin) has become home to hundreds of thousands of internally displaced people who have fled war, suffering and death from many other regions of the country despite embargo and isolation.
With the invasion attacks of the Turkish state and allied jihadists of ISIS, al-Nusra and other Salafist groups, a wave of flight began, ending with hundreds of thousands of residents leaving their homes and getting evacuated to Shehba canton and Shêrawa district for their own protection.
In the villages of Til Sosin, Til Qerah, Ziyaret, Ahras, Tal Rifat, Til Shaîr in the canton of Shehba, thousands of people driven into exile are trying to gain a foothold in empty houses and courtyards. Because most of the houses in Shehba were mined by the gangs during the war against the Islamic State, it will not be easy to start a new life. Especially since hardly anyone could take along his belongings. The only thing these people still possess is the clothes they wear.
Although the councils of Shehba Canton work day and night to meet the needs of immigrants, the capacity of the canton is insufficient. The number of people evacuated to Shehba is well above their own. The people of Afrin need electricity, food and health-promoting measures to build a new life in empty houses, shops and patios with the few things they now have.

Speaking to ANF reporters on the ground, residents of Afrin said they would never accept the Turkish occupation of Afrin. In any case, they want to return to their homes and banish the Turkish occupiers from their homes.
"WE NEVER TURN AWAY FROM AFRIN"

Hûriye Şêxo was evacuated from the village of Metîna in the district of Shera and is now in Til Qerah village, in an inner courtyard, which she shares with four other families. She could take none of her belongings with her. "Now we are here. Four families, about 20 people, live here. There is no water, no food and no medicines. You see the house. May God damn Erdoğan. Because of him we are in this situation, but we will never turn away from Afrin, "says Hûriye Şêxo.
MINED HOUSES
In Til Qehar, Zeynep Hebeş tries to stay alive with her five children in a house that was also mined by militias of the Islamic State. While she invites us to her house, she warns us not to enter the two mined rooms. Mines have been planted everywhere, she says. She is afraid to let her children out. The days are hard for her, because they simply have nothing left, says Zeynep.
CALL FOR HELP FROM SHEHBA
After leaving Zeynep's house, we see that the People's Council of Ahras notes the identities of the immigrants. Mihemed Rislan of the People's Council tells us that they are trying to provide the residents of Afrin with aids, but that there are just too many people who need help. "The priority is to accommodate people. But we really need many things. From clothing, food to shelter, we lack everything. We need support."
"PROUD OF THE RESISTANCE OF AFRIN"

Eyese Hisên, a member of the People's Council of Ahras, says that they have taken up the needs of the people and continues: "We will never abandon Afrin and the people of Afrin. In any case, we will take back the city. Afrin's people will be here with us for a while. We all have to stand together to help the residents of Afrin. We must make the enemy happy. We are proud of the resistance of Afrin and will never leave the city to the Turkish state."   
PROMISE OF REVENGE

Elderly woman Gulîzar Dilyar had fled from Aleppo to Afrin. Now she is also in Shehba and has the following to say: "How many times have we been on the run? May God destroy Erdoğan's house. He should experience a thousandfold of what he did to us. Because of him, we have fled our homeland but he should know that we will not abandon him our lands. Today, the days may be difficult, we have nothing left. But may God give strength to our children. They will avenge us."