Turkish army destroys houses in Shera, Afrin
The Turkish Occupation Army, with the support of jihadist auxiliaries, tore down 25 houses and an olive oil factory in the village of Kurtluk in the Shera district of Afrin.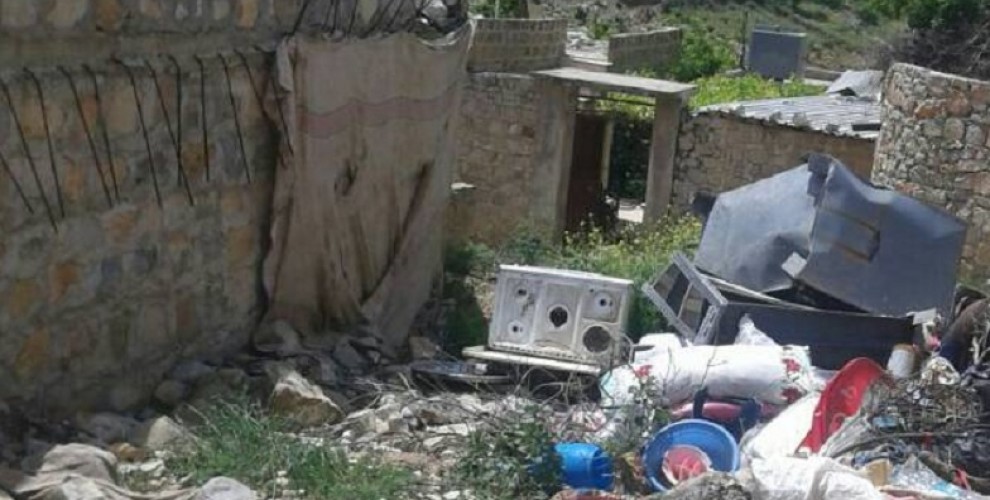 Thousands of homes and businesses have been plundered by occupation forces in the northern Syrian canton of Afrin. In the village of Kurtluk in Shera district, the houses were torn down with bulldozers after looting. Even a production plant for olive oil was completely destroyed.
"There is nothing left that belongs to us"
One of the affected homeowners is I.B. When the residents had to leave the village because of the attacks, no major damage had been done to the houses. Only later did the Turkish military tear down the houses with bulldozers, he says: "25 buildings and over 200 olive trees were razed to the ground. Even if we wanted to, we could not go back to the village because there is nothing left that belongs to us."
I.B. list the affected villagers: "The homes of Cuma Ebu Selbi, Hemzî Şebê and Qadir Şêx Mistefa, who is Arab, have been torn down. The houses of Arab citizens Şêx Ehmed and Mihemed Şêx were destroyed. The houses of Merkîd and Ehmed Fatimê were torn down. Hecî Murêd had an olive oil factory, which was also completely destroyed, alongside his home. Almost half of the village was torn down. Militias from Ghouta and other places not known to us have moved into the preserved houses. As we have heard, the whole village is full of them."
"Everything has been looted"
Also the house and the business of A.S.R. and his son from Afrin were looted. "We lived together in three generations. In our house and our shop were objects that would fill three trucks. Everything has been taken away. There were no air raids on our village, but there were constant mortar shelling, every night until morning. In the morning I always went to see which house was hit. Once I counted 29 mortars fired within an hour. We had to leave the village. I wish I had stayed there. I am an old person. If my wife and I stayed, we would die there. Our children did not allow it. They took us away. Everything we had was looted. Now the jihadists are staying there."